It may have happened recently that your close one started following some baking fanatics' blogs and decided to start baking. It may be that they are baking already and you still want to give them something extra. This is my take at "what would I really like to have if I didn't have it yet". You may be missing some gift wrapping skills just like my daughter, but hopefully you'll find some inspiration in this post.
Mogło się zdarzyć, że bliska Ci osoba niedawno zaczęła czytać bloga jakiegoś fanatyka piekarstwa i postanowiła sama zacząć. Może być też tak, że już piecze, a Ty wciąż chcesz jej kupić coś fajnego. To jest moja próba odpowiedzi na pytanie "co bym bardzo chciał mieć, gdybym tego nie miał". Możesz podobnie jak moja córka nie umieć pakować prezentów, ale mam nadzieję że chociaż znajdziesz w tym wpisie jakąś inspirację.
This is by no means a complete list. Some things are more gift friendly than others. Note that it may be beneficial to prepare some starter pack as a combination of things.
I don't have time for this. Give me a one click option.
Lazy cat. Have a look at the Weekend Bakery offer. There's something on Amazon. Google around.
Books
A safe option. Everyone could use an extra recipe or two, some theory intro, some technique description. For the some options I can recommend, have a look at our sources page.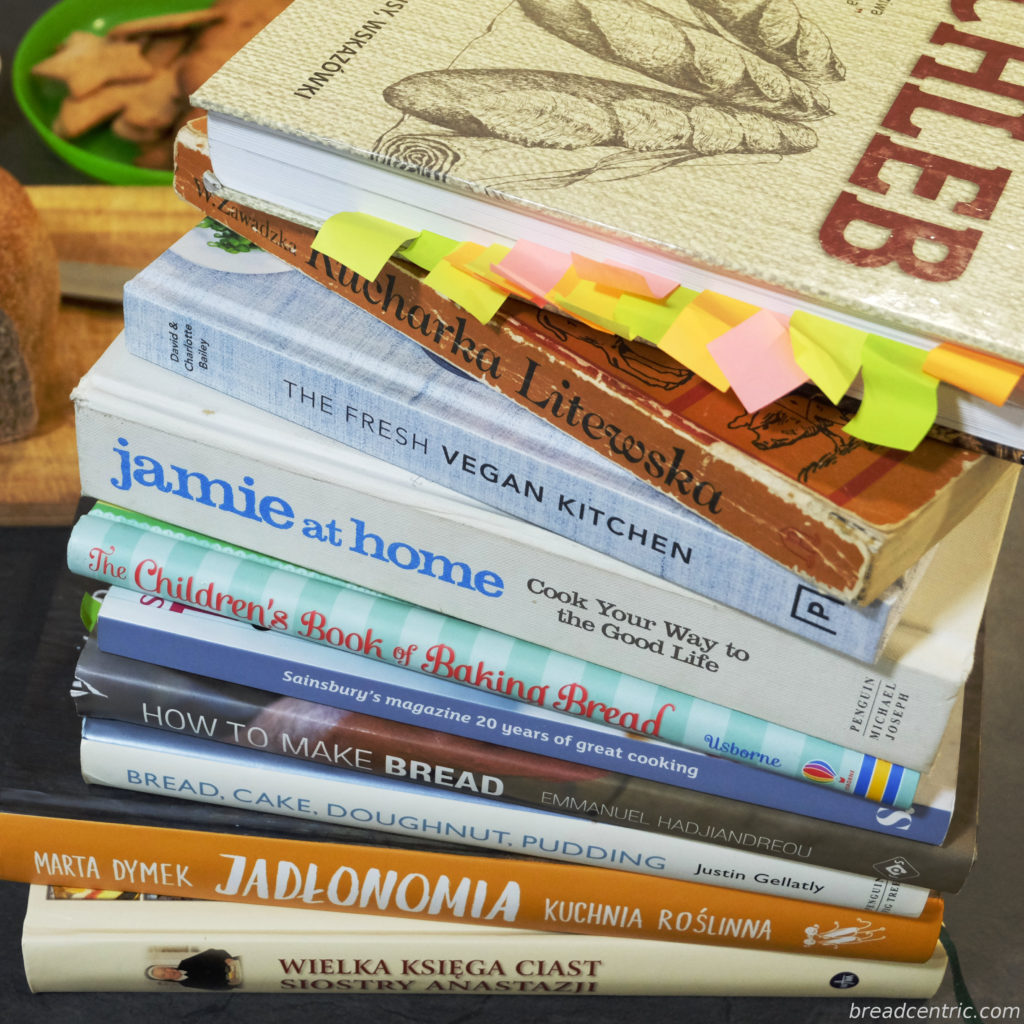 The two I can recommend without any hasitation are "Bread" by Jeffrey Hamelman (ISBN 978-1118132715) and "Flour Water Salt Yeast" by Ken Forkish (ISBN 978-1607742739). Peter Reinhart is possibly a safe choice as well, but I haven't seen any bakes from "The  Bread Baker's Apprentice" (ISBN 978-1580082686), or any other for that matter.
In the second line of bread books that I've seen or have I would place "How To Make Bread" by Emmanuel  Hadjiandreou (ISBN 978-1849751407) and "The Children's Book of Baking Bread" by Abigail Wheatley and Sam Baer (ISBN 978-1-4095-8219-9). These are very enjoyable books with nice recipes and a lot of explanation for the beginners. Note that Emmanuel Hadjiandreou also wrote "Making Bread Together" (ISBN 978-1849754859) which touches on the subject of baking with kids. Having seen the first one, this one also seems awesome.
Then you've got the celebrities, bloggers, people who happen to just have opened a new business and release a book on what they do over there. Many of those books will be ok, even awesome. The signature recipes will be spreading the authors' love. I'm not trying discourage anyone here, as many of these books will be good. Some may be average or worse, but even then, your bread freak will not care, they just got a new shiny book on bread. Bread bread bread bread bread bread.
Baking course
You can get something interesting here. Of course, anyone can run a baking course (even I did a workshop once), so take caution. If in London, I can recommend Bread Ahead in Borough Market. They offer a lot of options, so you can safely go for gift vouchers there. A friend of mine had one of their courses and his bread was awesome.
Dough scraper
This is a nice add on. Someone may be offended if they get a single scraper for £1. I have a number of those and every now and then add something new to try. In general you have numerous options here, but the two below are my favourite ones: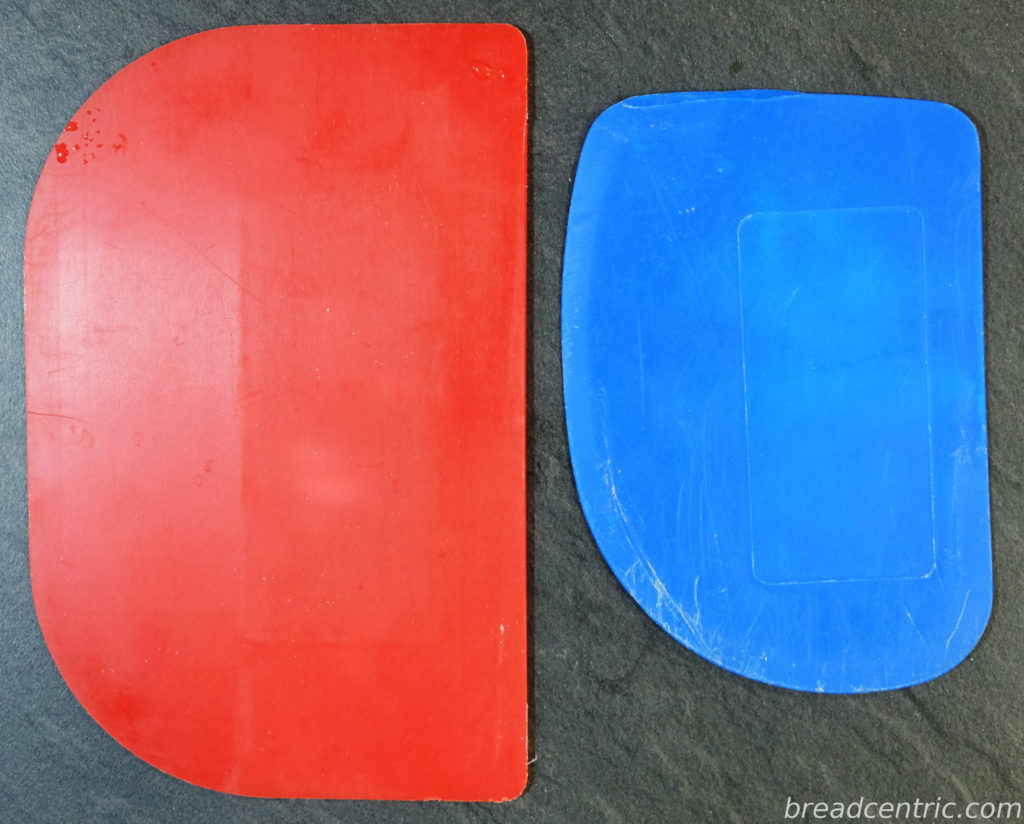 The smaller one is perfect for a bowl, bends nicely to remove everything from the sides. The bigger one is good for lifting the dough on the worktop and for dividing portions.
I know the steel ones look very impressive, but bare in mind you don't have an industrial grade surface at home and you can damage the worktop.
Proofing basket
Now this is my personal number one. Nothing beats a beautiful round bread with the spiral flour trace on top. I recommend a banetton to hold 1kg bread.
There are numerous options, some pricier, some cheaper. I only know the round ones that I have and I think that if you don't have any precise information on person's wishes, a round one should be the safest choice.
If you go for a basket, there are two accessories here:
Get a cleaning brush. Every time after baking you need to clean the basket thoroughly to remove the flour and get it dry from the dough's moisture. It should be quite stiff and safe to use with food contacting materials. I really recommend buying a basket with a brush, unless the person already has a something to clean it.
Linen cloth/proofing couche
Not to spectacular, I know, but many people are missing something like this. We have around four kitchen cloths that are used solely for working with bread. Others can get stained as they are used for general things in the kitchen. Just make sure it's made out of linen, is white or natural colour.
If you however decide to get a proofing couche, it is a bit more attractive. It isn't a good gift for a begginner, however.

Scale
You cannot underestimate the value of a good scale. The one that I have has cost me quite a bit, but after a year of using I'm still pleased with it. I bought it after a basic scale I had before started struggling to measure anything.
So what's to consider here? Choose a digital one, measuring up to as many as possible (5 kg is a minimum, 10 kg is really ok), with a 1 g increment. Or you can buy an extra one with a smaller scale, for instance up to 200 g every 0.1 g.
Avoid fancy scales with displays in the scale's platform. It's impossible to see the measurments when a big bowl is used.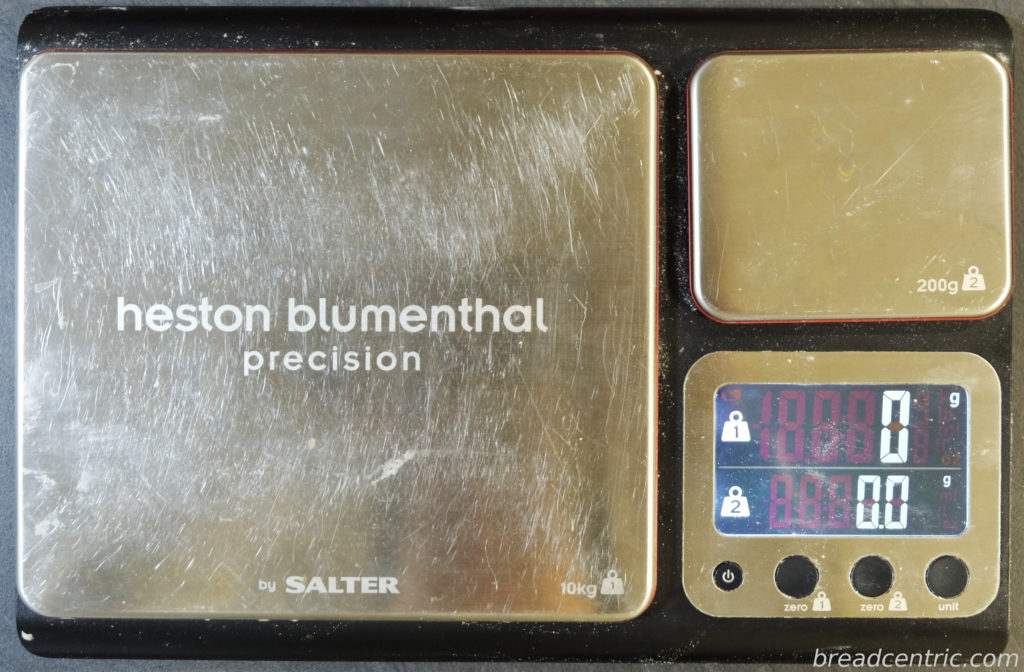 Some scales have an option to do baker's percentages. Most home bakers never get to this phase (I also haven't yet), but it is quite an impressive option.
Dough lame (risky!)
Now this one gave me a lot of joy. Being able to score the dough precisely before baking, watching it expanding as I instructed (or not), doing nice pictures on the crust, getting that perfect baguette at last (as perfect as it can get for now) – that's very rewarding.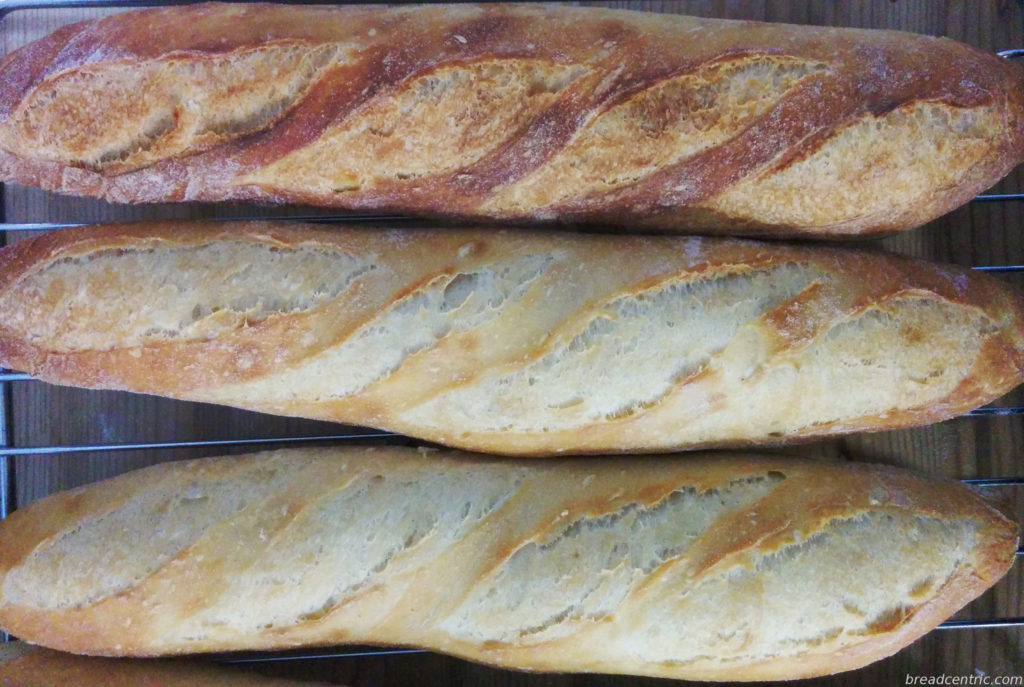 But then, you would be buying a knife as a Christmas present. Somehow I can think of a couple scenarios of how bad this could get. Let them use a kitchen knife at first and then decide to buy this themselves, possibly.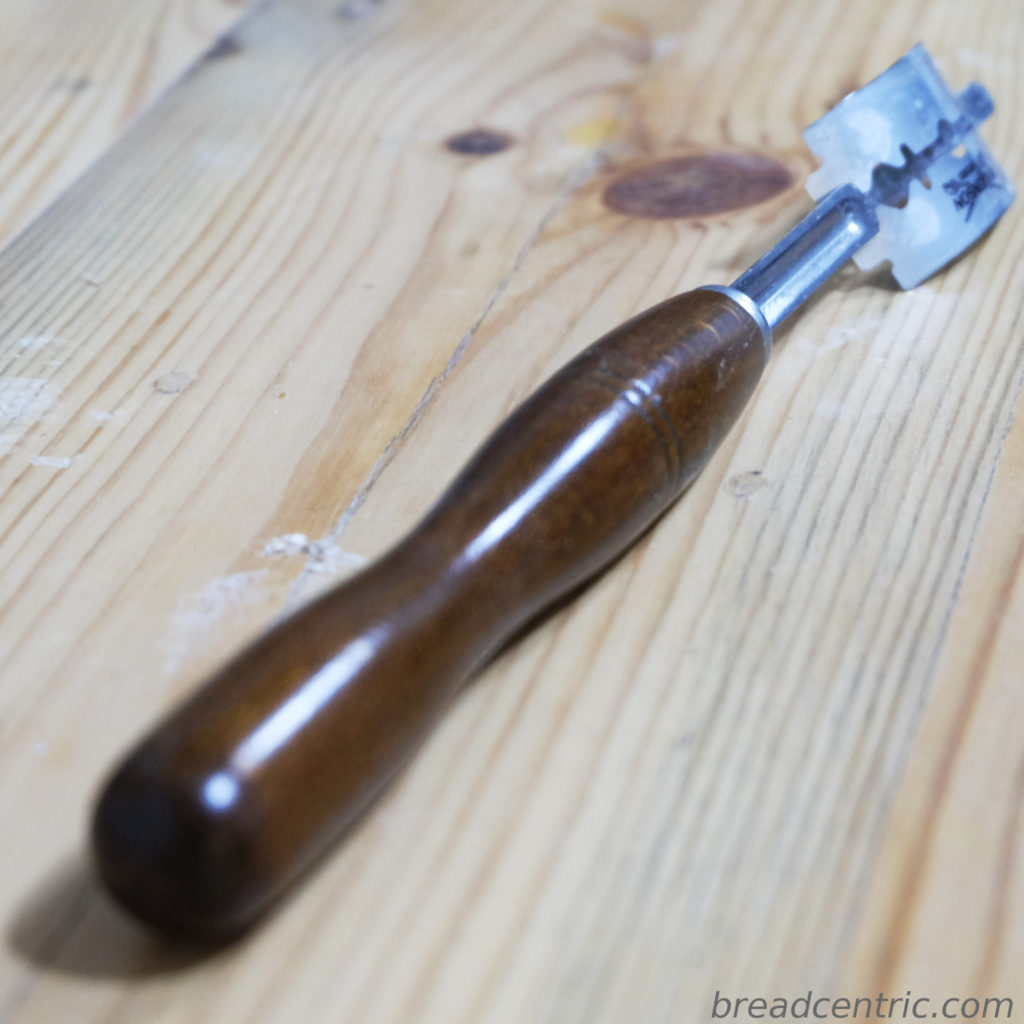 Special ingredient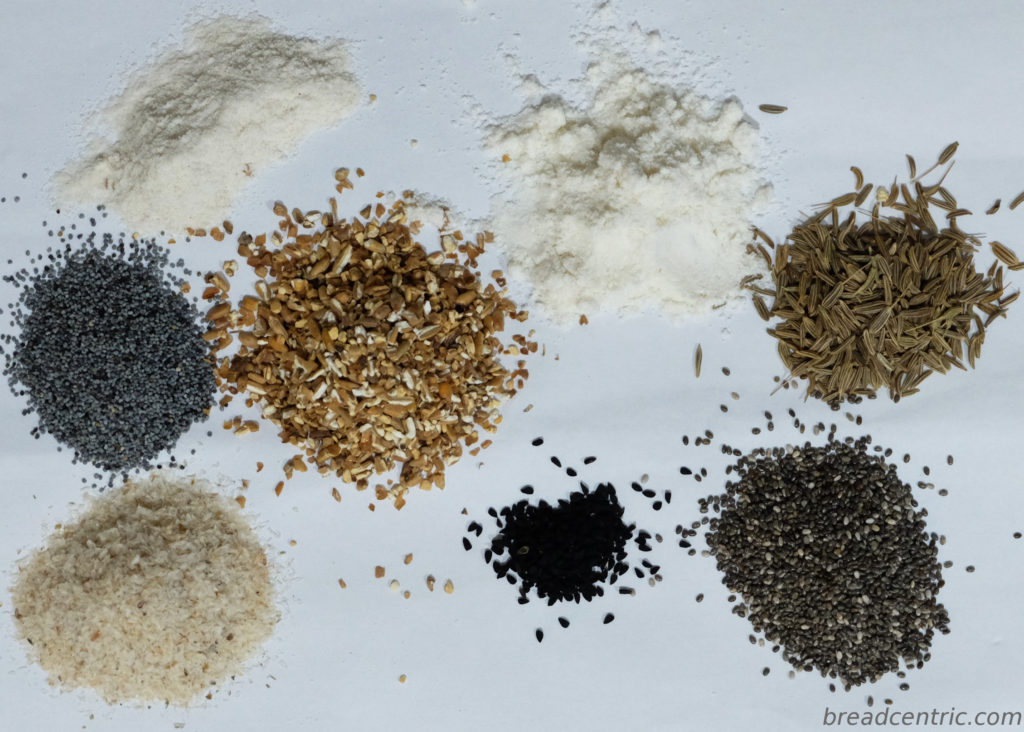 Definitely safer than a pack of razors. Get some malted seeds, set of exotic organic flours, possibly accompanying a good book (and listed in at least one recipe from there, for instance: 25 kg bag of rye flour with "The Rye Baker" book).
Bowls
Well, bowls. Spectacular: 0.3 on a scale from 1 to 10, but very practical, if someone doesn't have a bowl yet. Get a stainless steel one, capacity of around 5 litres and use it as part of a gift (it may fit the banneton in and a couple extras as well, but tricky to wrap in paper).
Baking tins
You can get something nice here, some fancy shapes that no one buys on their own, an Easter lamb for instance.
Cooling rack
We have three of those, always very handy. Still, even less spectacular than the bowls.
Baking stone
This is tricky. I've always wanted a baking stone and I still do. But bare in mind we're not talking about this 1 cm thick circle of something 25 cm in diameter that you use for your pizza. We're talking about a flipping block of stone. Imagine 8kg block of granite. Yup, that's what you can buy, and it's not even the biggest one. I guess you understand now why I did not buy one yet.
Clay baker/Iron cast pot
I can't tell you anything about them apart from good opinions that I heard. They are said to improve the baking outcome significantly. Remember it needs to fit into the oven.
This by no means is a comprehensive list, only some ideas that came to my head. Remember: Christmas is in two weeks, so better start ordering.
To zdecydowanie nie jest kompletna lista. Jedne rzeczy też bardziej pasują na prezent niż inne. Możesz połączyć kilka w jeden prezent.
Nie mam czasu czytać, daj Pan gotowe rozwiązanie!
Nasz klient nasz pan! Będzie kierownik zadowolony!
Poszukaj gotowego zestawu. e-Mąka oferuje zestaw foremka i składniki na konkretny chleb. Mało ambitnie, ale jest. Równie szybko i ambitniej (finansowo) będziesz mieć z piecem. Oferta z Weekend Bakery jest ciekawsza. Nie wiem jak z dostępnością w Polsce, ale zawsze można się zasugerować zawartością.
Książki
Bezpieczna opcja. Każdemu przyda się nowy przepis lub dwa, trochę teorii, nowa technika. Kilka godnych polecenia opcji znajdziesz na naszej stronie ze źródłami.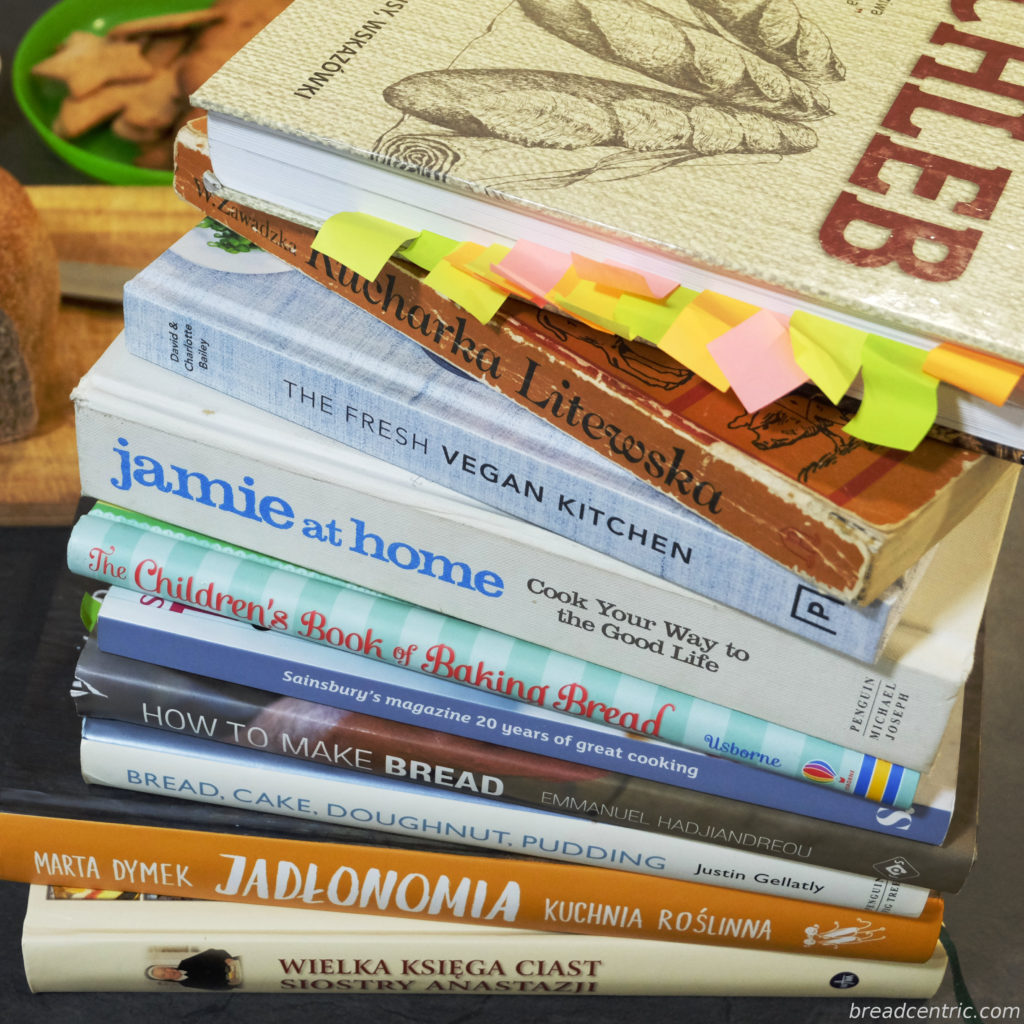 Dwie mogę polecić ze spokojnym sumieniem: "Chleb" Jeffreya Hamelmana (polska wersja rozsprzedana, ISBN 978-8328012592) i "Mąka Woda Sól Drożdże" Kena Forkisha (polska wersja na wykończeniu w internecie, ISBN 978-83-280-1257-8). Peter Reinhart jest też raczej bezpiecznym wyborem, ale nie widziałem niczego z jego książki "The  Bread Baker's Apprentice" (tylko po angielsku, ISBN 978-1580082686).
W drugiej linii umieściłbym "How To Make Bread" autorstwa Emmanuela  Hadjiandreou (tylko po angielsku, ISBN 978-1849751407). Przepisy są ładnie wytłumaczone, dużo zdjęć. Autor też popełnił "Making Bread Together" (tylko po angielsku, ISBN 978-1849754859), która porusza temat pieczenia z dziećmi. Biorąc pod uwagę pierwszą, druga pewnie też jest niezła. Również "The Children's Book of Baking Bread" autorstwa Abigail Wheatley oraz Sama Baer (tylko po angielsku, ISBN 978-1-4095-8219-9) jest dobra dla rodziców.
Potem mamy wszelkiej maści celebrytów, bloggerów, ludzi którzy właśnie otwierają nowy interes i przypadkiem właśnie wypuścili książkę o tym, co serwują. Wiele z nich będzie w porządku, może nawet niezłych. Autorskie przepisy będą nieźle dopieszczone. Kilka będzie przeciętnych lub gorszych, ale nawet wtedy chlebowy świr się nie przejmie, w końcu właśnie dostaje nową, błyszczącą książkę o chlebie.
Z polskich pozycji niczego nie polecam, bo nie widziałem. Ciekawe mogą być na przykład:
"O Chlebie" Elizy Mórawskiej (ISBN: 978-8393978229)
"Chleb. Domowa Piekarnia" Piotra Kucharskiego (ISBN: 978-83-764-2418-7)
Chętnie wysłucham opinii i poleceń.
Kurs pieczenia chleba
To jest dobry pomysł dla osoby początkującej. Kilka godzin z innymi osobami lubiącymi piec chleb i z profesjonalistą to zawsze cenne doświadczenie. W swojej ulubionej wyszukiwarce znajdziesz więcej informacji.
Skrobak do ciasta
To jest zawsze trafiony dodatek do większego prezentu. Ja mam ich kilka i wciąż dokupuję kolejne na spróbę. Jest wiele opcji, ale te dwie poniżej są moje ulubione: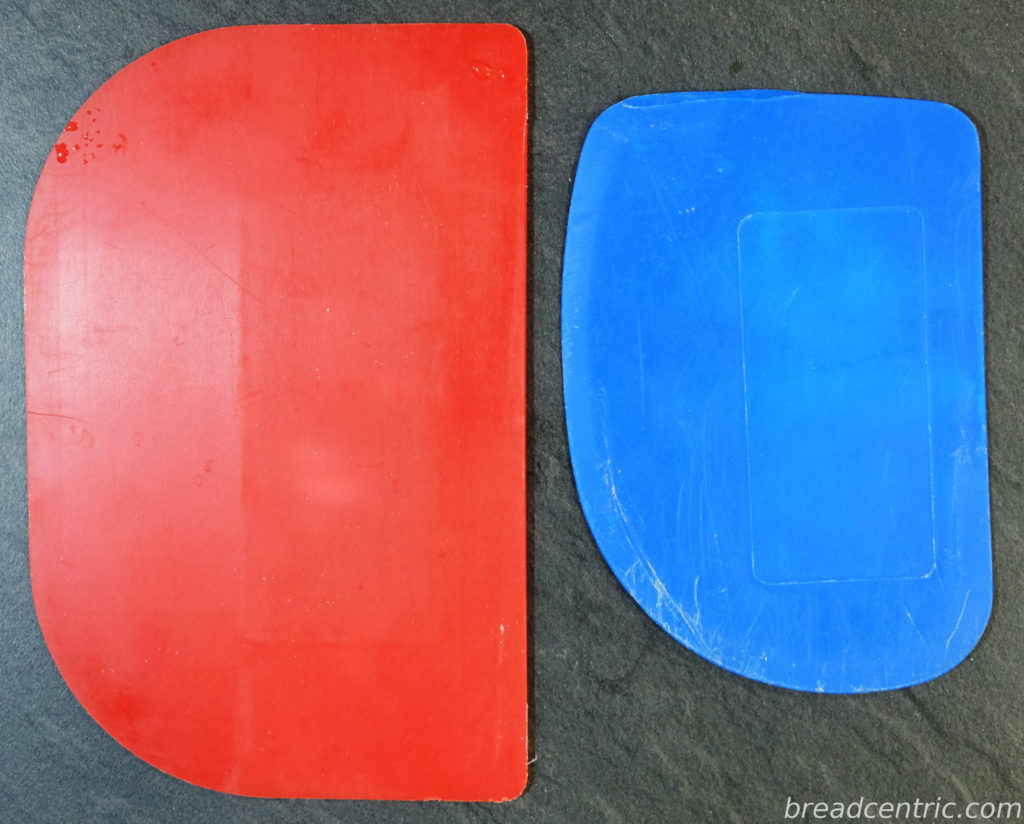 Mniejszy jest doskonały do misek, ładnie się zagina, zbierając ciasto ze ścianek. Większy jest dobry do podważania ciasta na blacie i dzielenia porcji.
Wiem że stalowe skrobaki wyglądają efektownie, ale weź pod uwagę, że mogą zniszczyć blat. Plastikowe wydają się być bezpieczniejszą opcją.
Kosze do wyrastania
To jest moja ulubiona opcja. Jednym z najbardziej satysfakcjonujących dla mnie doświadczeń było upieczenie ładnego, okągłego bochenka ze spiralą na powierzchni. Polecam kosze na jeden kilogram ciasta.
Jest wiele opcji, w różnych zakresach cenowych. Myślę że okrągły jest najbezpieczniejszy.
Jeśli będziesz kupować kosz, pamiętaj o akcesoriach:
Kup szczotkę do czyszczenia – powinna być dość sztywna i przeznaczona do kontaktu z żywnością. Za każdym razem po pieczeniu trzeba wyczyścić kosz, aby usunąć pozostałą mąkę i osuszyć go z wilgoci od ciasta. Bardzo polecam kupić jednocześnie kosz i szczotkę, chyba że wiesz, że ta osoba ma już coś do czyszczenia koszy.
Ściereczki lniane/tkanina do wyrastania
Wiem że to nie jest zbyt spektakularny prezent, ale wielu osobom brakuje czegoś takiego. Mamy kilka ściereczek, przeznaczonych tylko do pieczenia chleba. Inne ścierki używamy do wszystkiego i to może być niezbyt higieniczne. Powinny być lniane, dobrze żeby były białe lub niebarwione.
Druga opcja to tkanina do wyrastania. To zdecydowanie nie jest materiał na pierwszy prezent dla początkującego piekarza, ale komuś średnio zaawansowanemu może dać sporo radości.

Waga
Dobra waga to podstawa. Moja mnie trochę kosztowała, ale po roku korzystania wciąż jestem bardzo zadowolony. Zastąpiła ona taką bardzo podstawową, która zaczęła mieć problemy z mierzeniem czegokolwiek.
Co wziąć pod uwagę? Niech będzie to waga cyfrowa, z podziałką 1 g i skalą w miarę dużą (5 kg to minimum, 10 kg jest bardzo dobre). Ewentualnie kup bardziej dokładną wagę do małych ilości składników, na przykład do 200 g z podziałką 0,1 g.
Unikaj fikuśnych wag z wyświetlaczem w powierzchni warzącej. Wsadzisz na taką miskę i nie wiesz ile zmierzyła.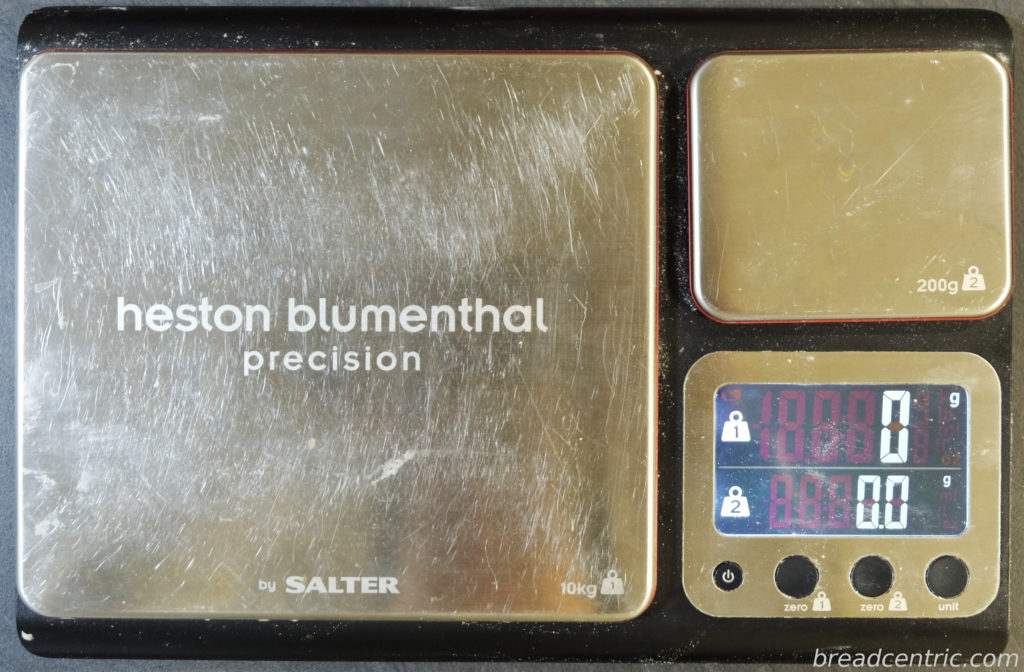 Niektóre wagi mają opcję mierzenia w procentach piekarskich. Większość piekarzy domowych nigdy nie dochodzi do tego etapu (ja też jeszcze nie), ale to jest dość efektowna funkcja.
Nożyk do nacinania ciasta (ryzykowne!)
Mi ten zakup dał bardzo dużo radości. Móc naciąć precyzyjnie ciasto przed pieczeniem, patrzeć jak się rozrasta tak jak chciałem (lub nie), robić ładne wzorki na skórce, upiec w końcu doskonałą bagietkę (tak doskonałą, jak potrafię póki co) – bardzo wynagradzające.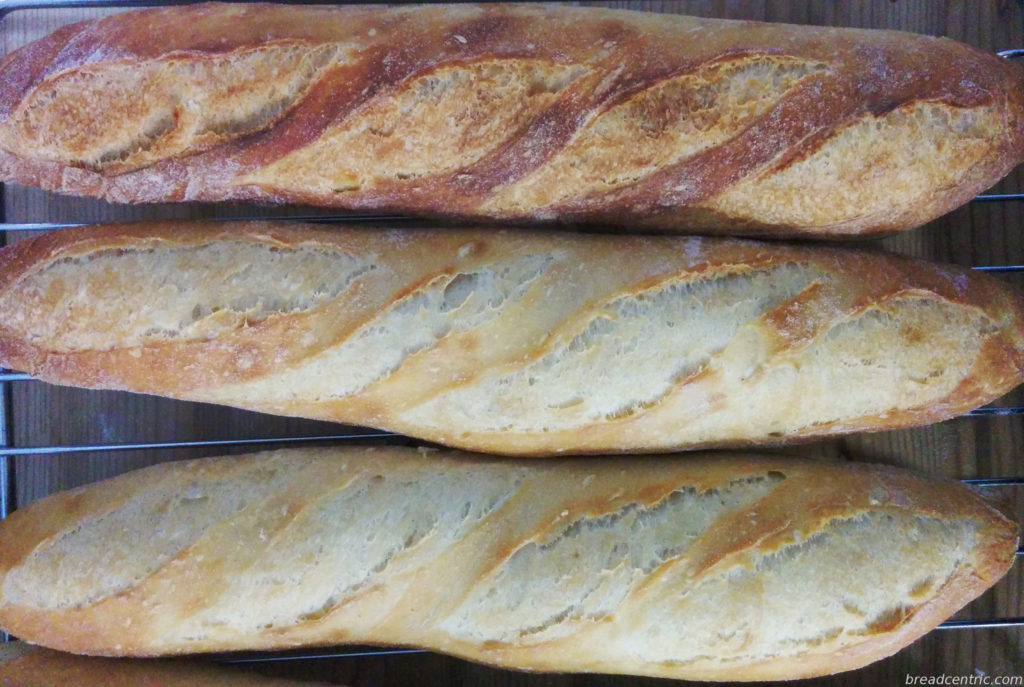 Ale jednocześnie to byłby zakup noża na prezent świąteczny. Przychodzi mi do głowy kilka sposobów, w jakie to może się skończyć bardzo źle. Lepiej niech używają na początku własnych noży, a potem sami sobie kupią.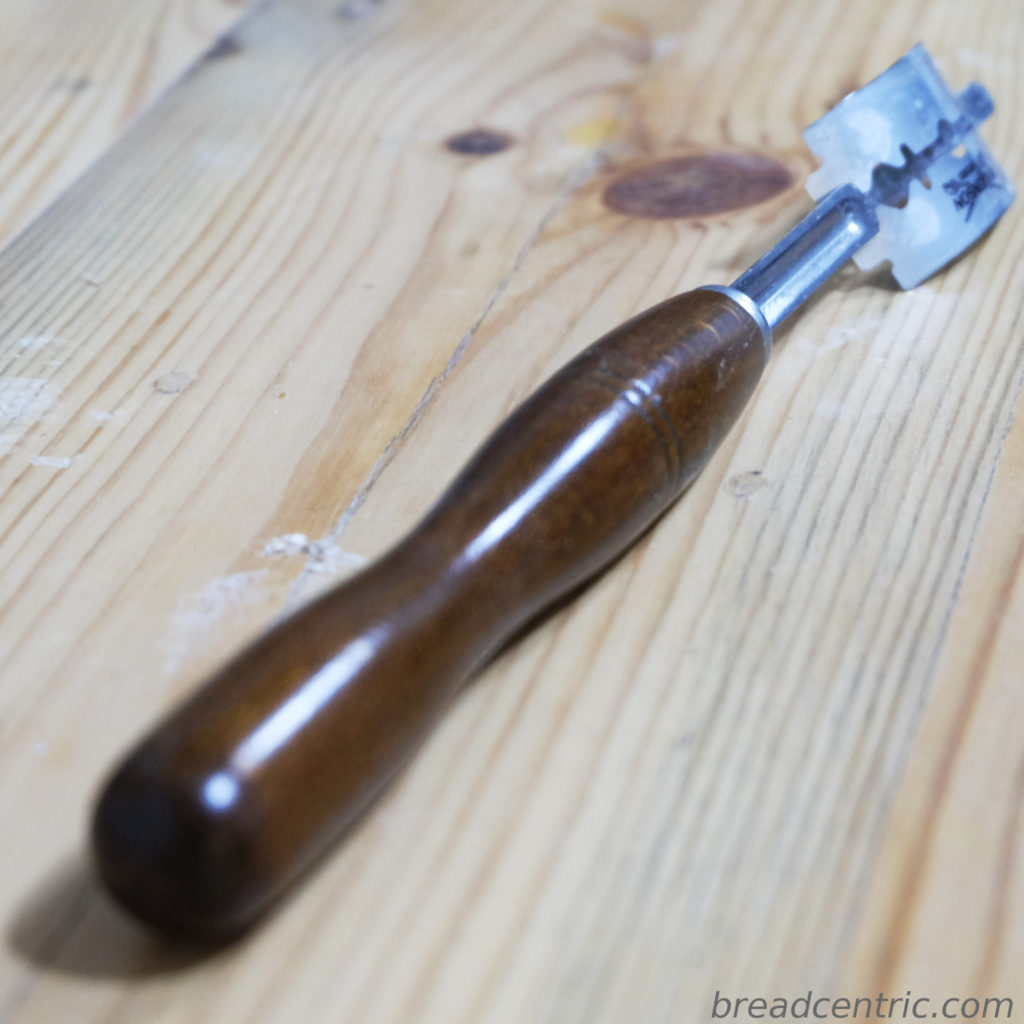 Wyjątkowy składnik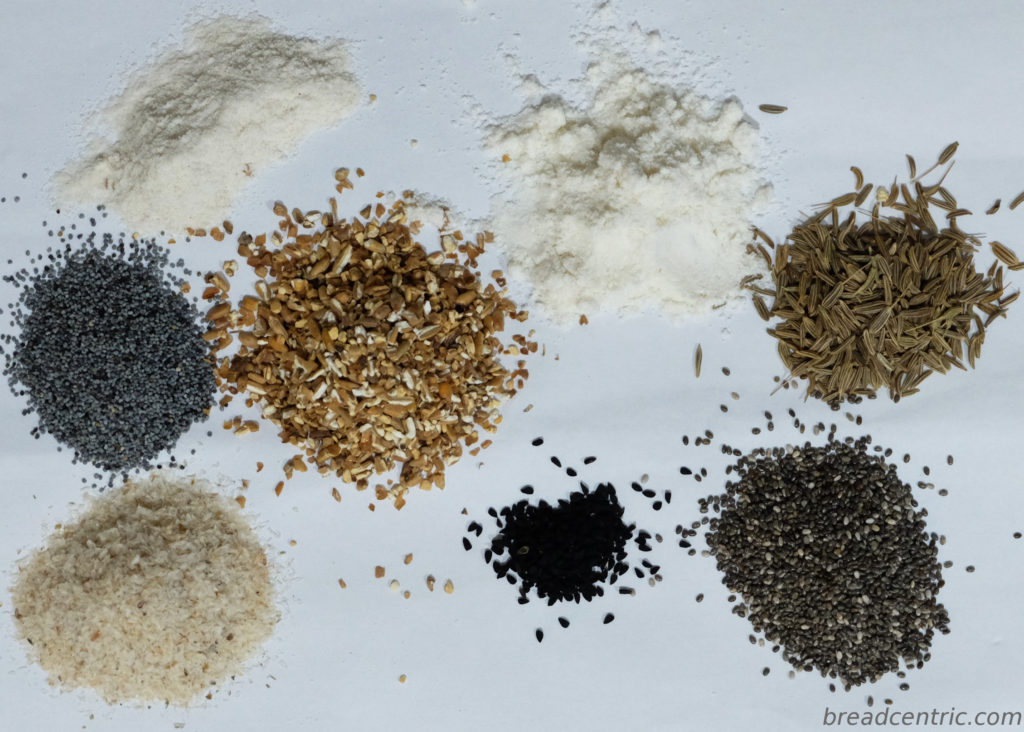 Zdecydowanie bezpieczniejsze niż paczka żyletek. Kup coś słodowanego, jakieś egzotyczne mąki ekologiczne, najlepiej w towarzystwie  dobrej książki (najlepiej, aby składnik był w niej uwzględniony, na przykład paleta mąki żytniej z książką "The Rye Baker").
Miski
Cóż, miski. Spektakularność: 0,3 w skali od 1 do 10, ale bardzo przydatne, jeśli ktoś jeszcze nie ma miski. Kup ładną, ze stali nierdzewnej, o pojemności około 5 litrów i użyj jako pojemnik na resztę zestawu (kosz do wyrastania powinien się zmieścić, kilka innych rzeczy też, ale ciężko będzie zapakować w papier.
Foremki
Tu możesz zdobyć też coś interesującego, na przykład fikuśne kształty, których nikt sam sobie nie kupi. Przykład: foremka na baranka wielkanocnego.
Kratka do studzenia
Mamy trzy, zawsze bardzo przydatne, choć mniej spektakularne niż miska.
Kamień do pieczenia
Wchodzimy na ryzykowne terytorium. Zawsze chciałem kamień do pieczenia, wciąż chcę. Jednak zdaję sobie sprawę z tego, że nie mówimy o tym czymś grubości 1 cm, na czym piecze się pizze. Mówimy o kawałku kamienia. Wyobraź sobie płytę granitową o wadze 8 kg. Tak – takie są w sprzedaży, i nie są najcięższe. Mam nadzieję że rozumiesz, o jakim mówię ryzyku.
Garnek rzymski/żeliwny
Słyszałem o nich dobre opinie, choć sam takiego nie mam (ciężko z miejscem w kuchni). Mówi się, że bardzo poprawiają wynik pieczenia. Pamiętaj, że musi się zmieścić w piekarniku.
To nie jest wyczerpująca lista, tylko kilka pomysłów, które mi wpadły do głowy. Pamiętaj: Święta są za dwa tygodnie, więc lepiej już zamawiać.