Raków, the village my Mom comes from, has a long, interesting history and multiple local customs and traditions. I am proud to say my family is part of it.
Raków, wioska z której pochodzi moja Mama, ma długą interesującą historię oraz wiele lokalnych zwyczajów i tradycji. Jestem dumny, że mogę być tego częścią.
I have mentioned before, that on Easter and Christmas we prepare dzionie, a traditional holiday dish from Raków area. A year ago I have decided to make it myself. I challenged my Sisters to try as well. They couldn't, but I'm not getting discouraged, a time will for that.
The text below had been written by my Mom in Polish. I've put my comments in square brackets.
Dzionie rakowskie
I've never followed a recipe, but think this one is closest to my version which I know from peeking on Grandma's and Mom's work, and which I've been doing since early adulthood.
Ingredients
Matzos:
1 kg plain white flour [I used strong flour]
4 eggs
Pinch of salt
Water [I used about 350 g]
Other ingredients:
1 kg pork dewlap or raw bacon, not at all lean
4 eggs
Salt, pepper to taste
Thick pork intestines [best to store covered in salt in the fridge]
Toothpicks for closing the ends of intestines
Making matzos:
Mix the ingredients and knead the dough. It should be soft as for pasta or pierogi.
Divide in five-six portions and roll them as for pierogi [2-3 mm]. Bake in the oven set to 160 C (with fan) for 20-30 minutes.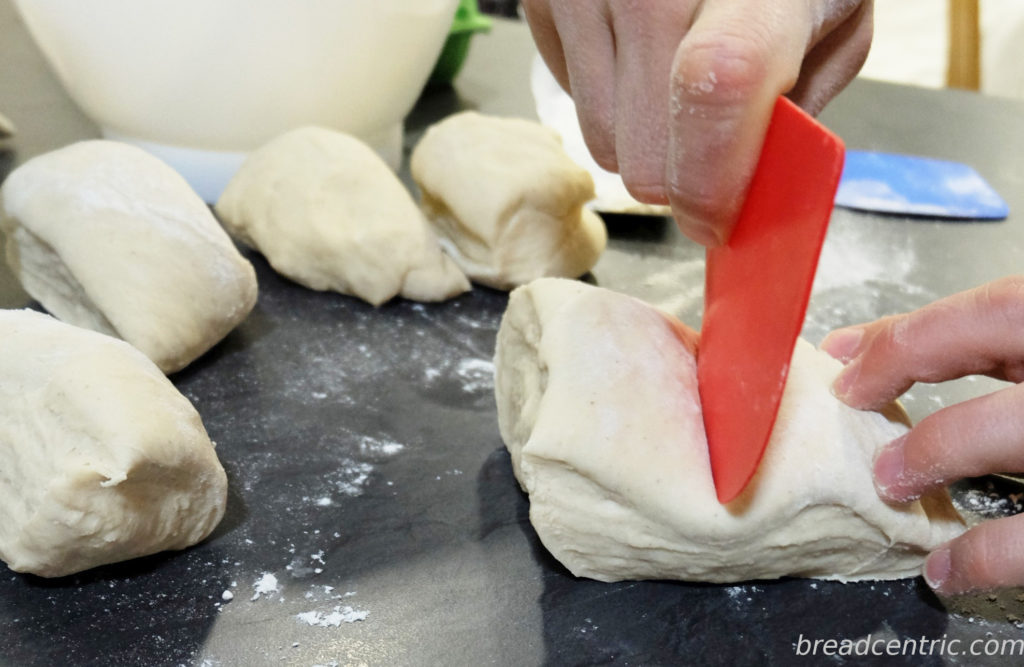 Of course, each bread is baked separately [I bashed up to three at a time, just shuffled them around the oven shelves]. I usually make them a couple days before Christmas and store in the oven.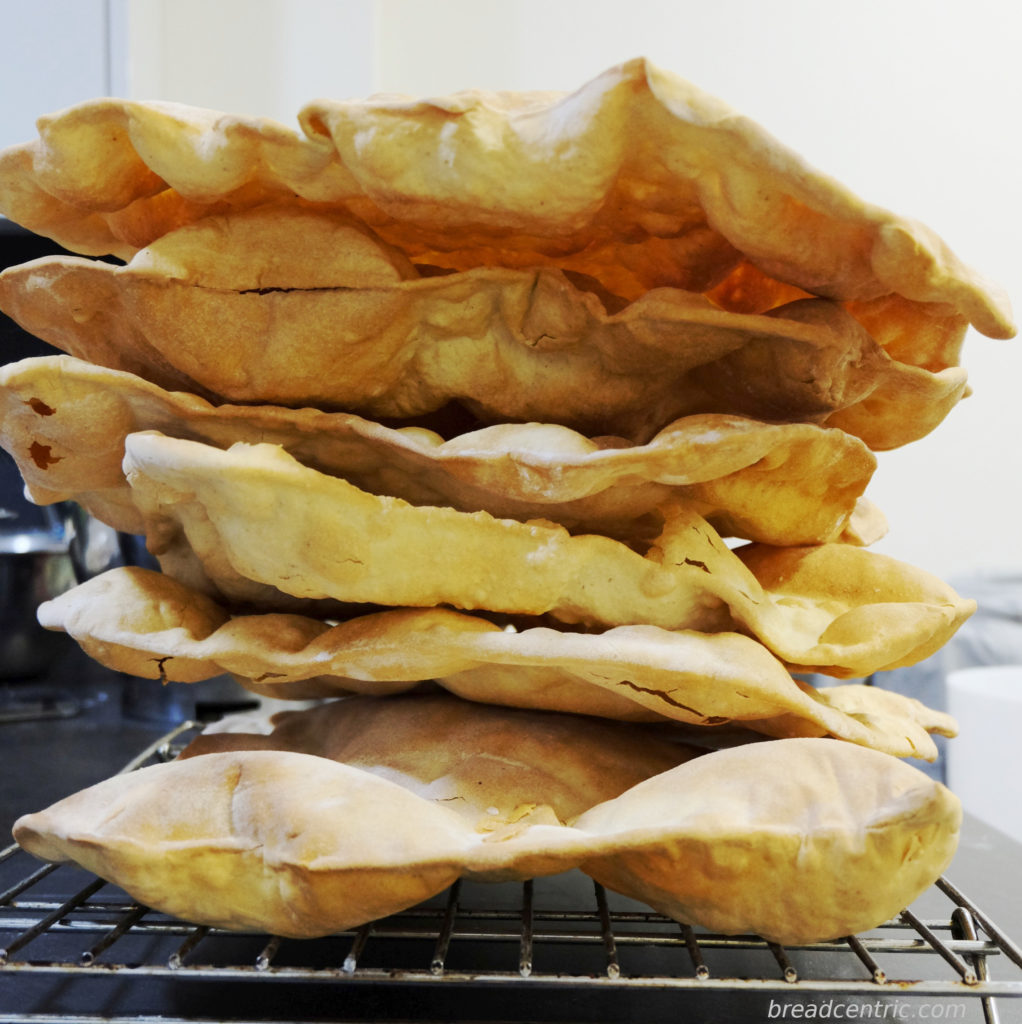 Making the filling
Cook the dewlap/bacon. You can add one bay leaf and 1-2 grains of allspice. There should be a lot of water. 3-4 litres per each kilogram of flour, I think.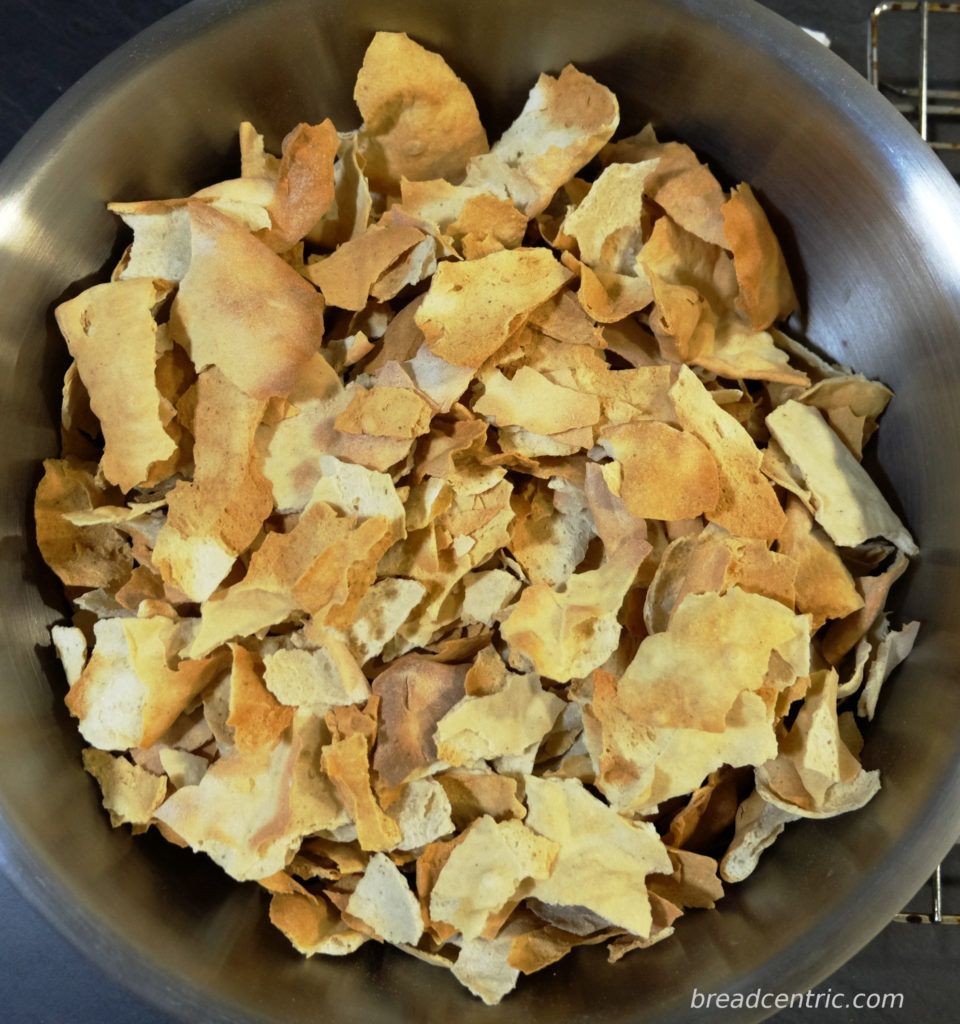 When the meat is soft, take it out, and pour the boiling water over matzos roughly broken into pieces [we cooked on Tuesday and on Wednesday heated it before using]. First pour it to cover the bread pieces, and when it's absorbed, but the pieces are still too dry, add more. Matzo pieces should be soaked for a couple hours. The more it absorbs, the less likely it is for the intestines to burst in the oven (irrationally optimistic dream 🙂 ). Well soaked matzos without firm, dry pieces and no water at the bottom mean you can continue.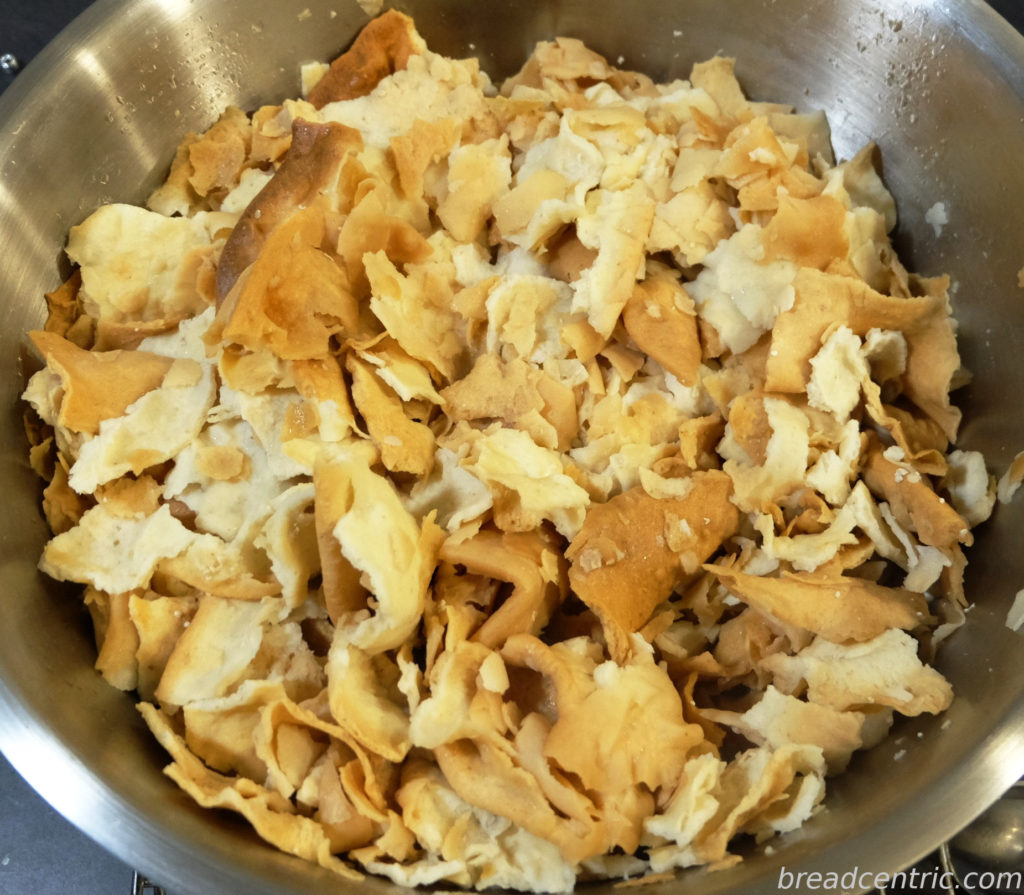 Salted intestines should be rinsed in warm water. You should replace water with fresh one a couple times. Also rise with water on the inside [if there is an inner membrane, you need to remove it].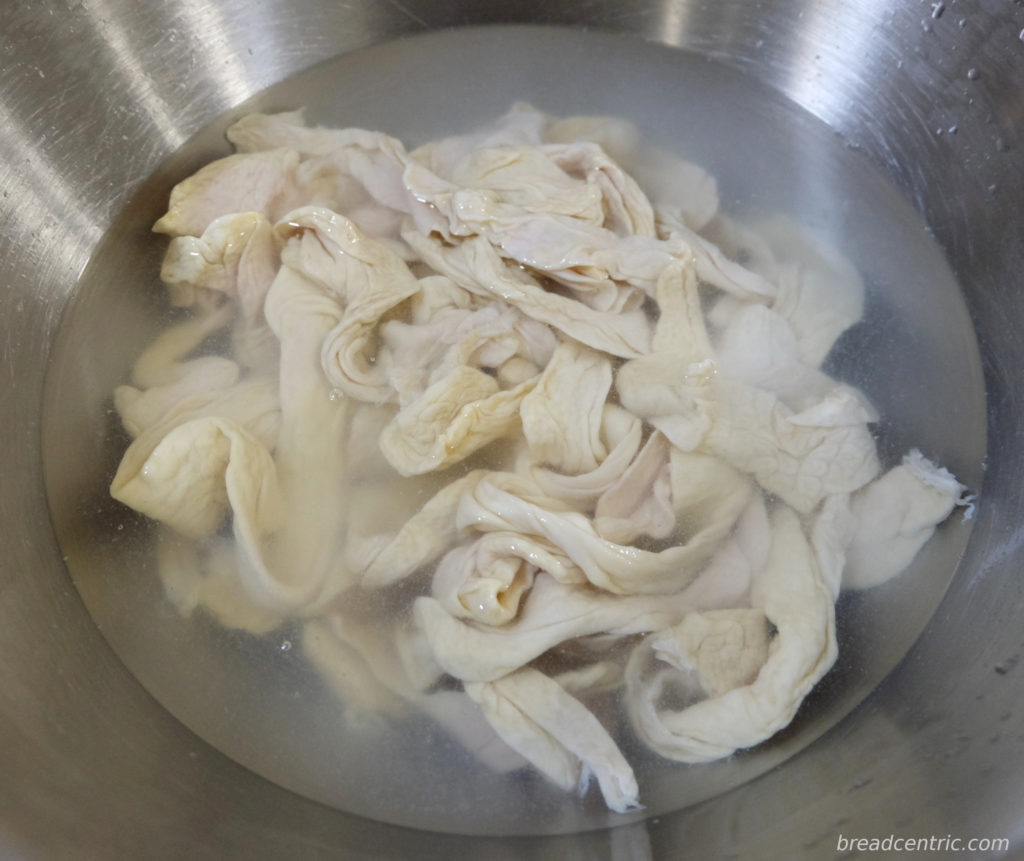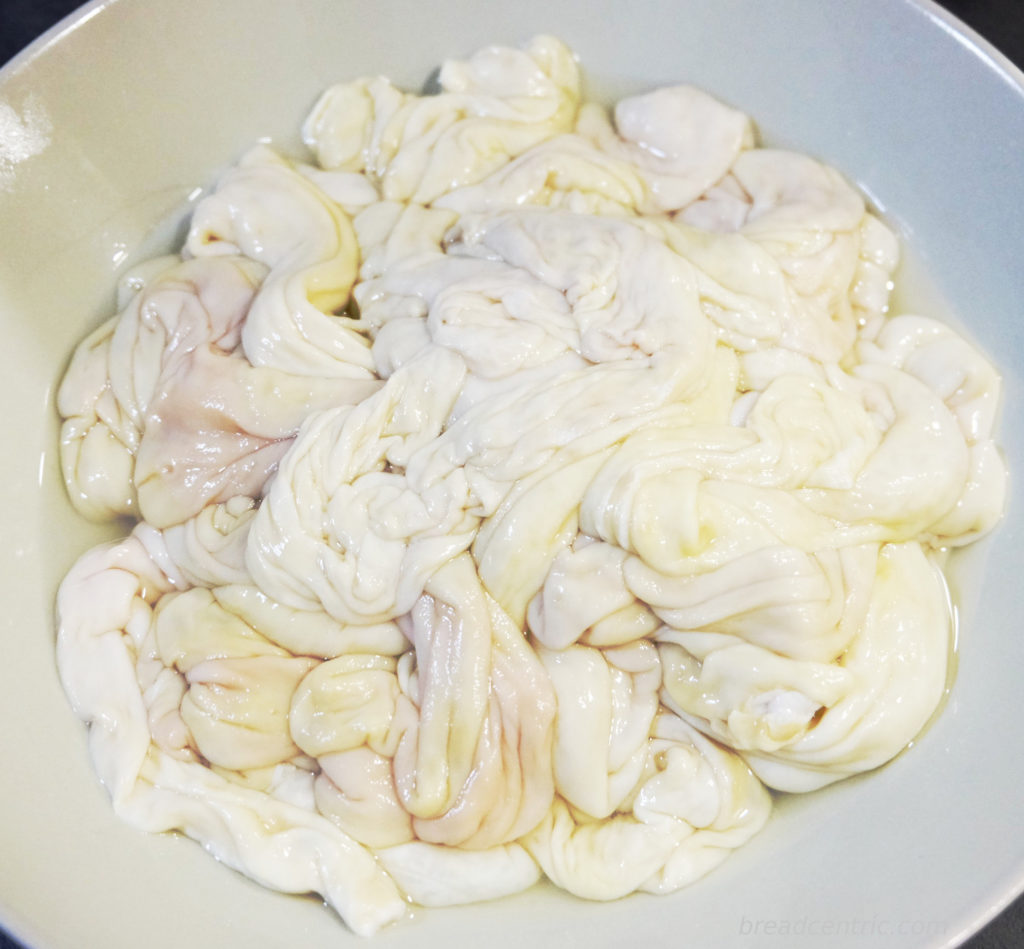 Cold dewlap/bacon should be minced and added to the matzos with eggs, salt and pepper and mixed thoroughly using hands. The pieces of matzo will break into even smaller ones, but you don't need to do it on purpose. Ask your family for help trying it and making sure the taste is satisfactory in terms of salt and pepper.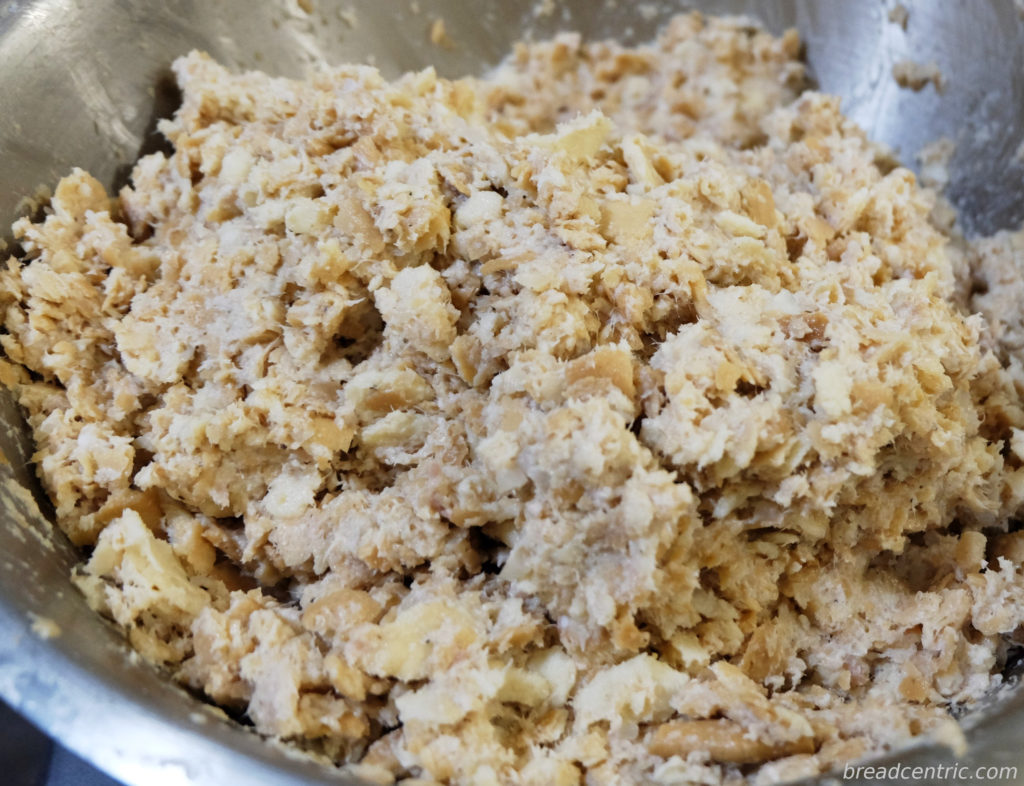 Once ready, the filling goes into the intestines. More loose rather then packed. We close them with toothpicks. Put them on roasting pan for baking.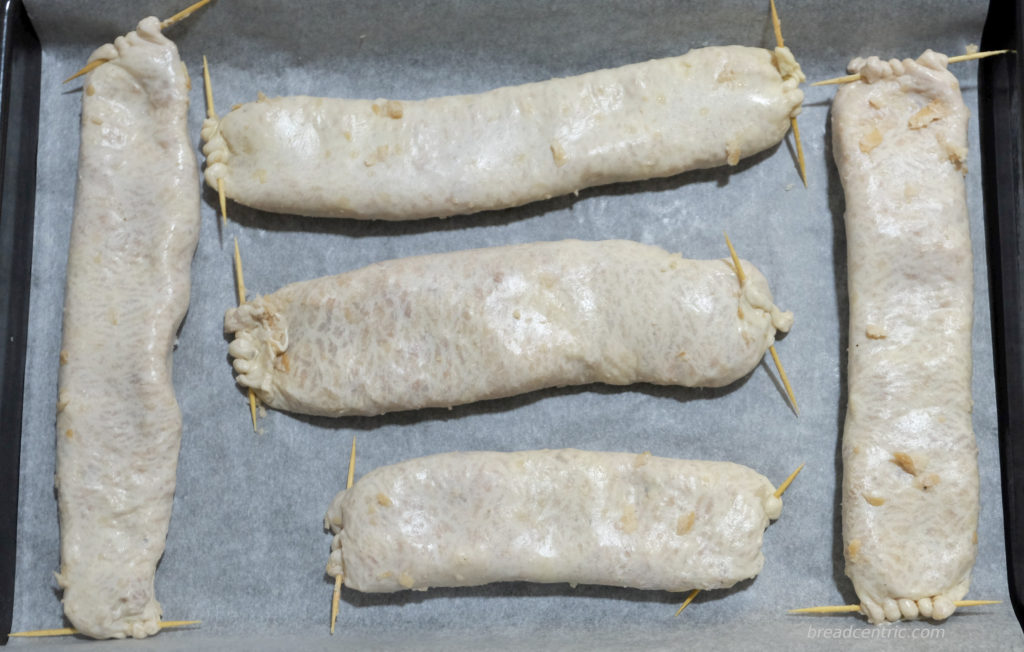 Bake in the oven set to 190 C. It usually takes 20-40 minutes. You need to monitor it and increase/decrease temperature depending on the events. About halfway through the baking flip it, making sure you don't burn yourself [Mom almost always burns herself a little]. Baked dzionie goes on the cooling rack.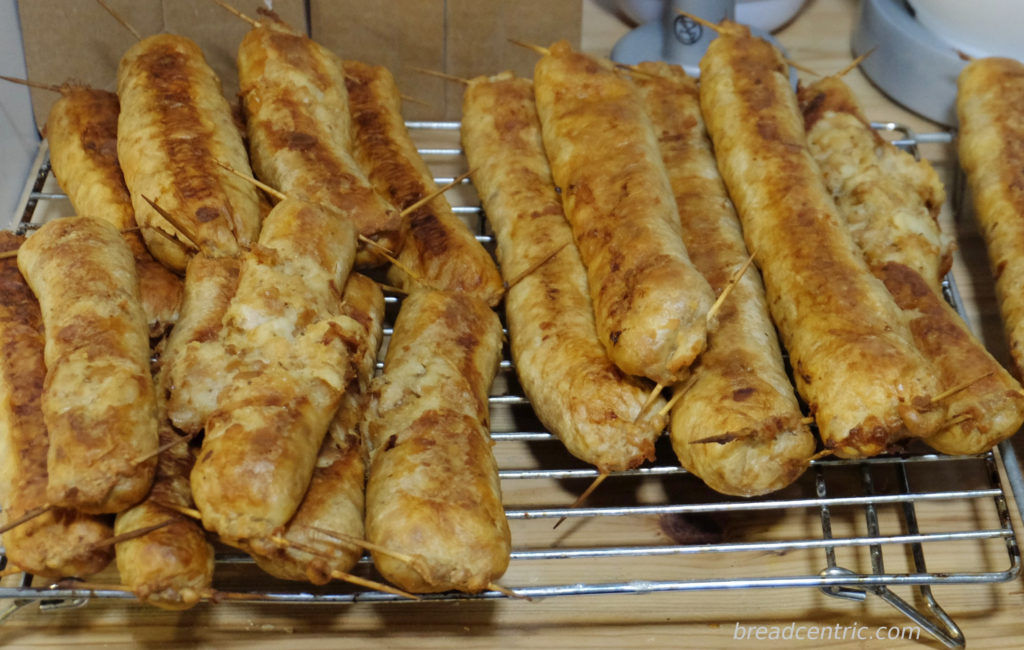 Dzionie looks good when it is evenly roasted, but you don't need to overdo as you will heat it up on the frying pan before eating anyway. The main point of attention is for the intestines to be baked properly and not burst. If it does burst however, put it into a tin. It is still delicious when warmed up. Use very low heat setting for preparing dzionie for serving. It needs to take time. If you set the fire too high, you can burn dzionie easily.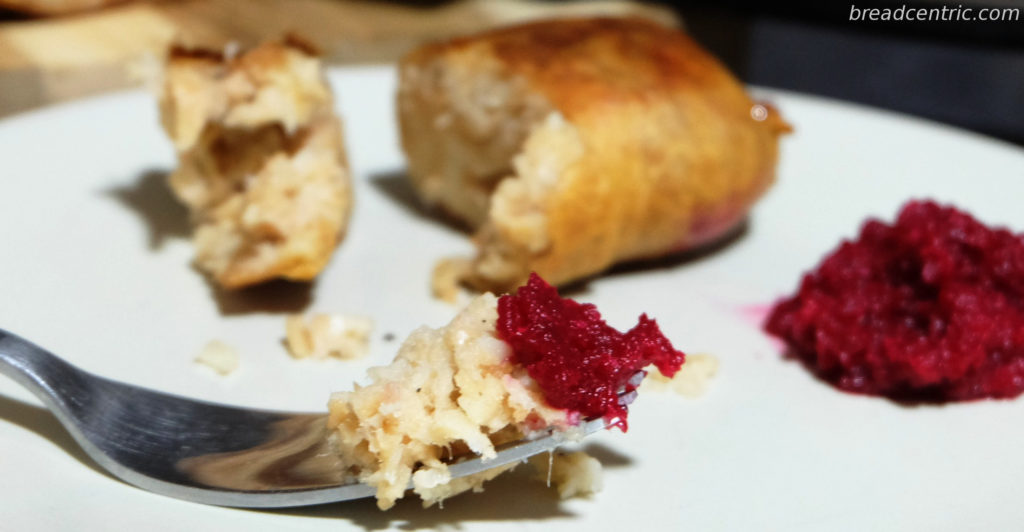 My comments
My schedule:
Monday: bake matzos
Tuesday: cook bakon/dewlap
Wednesday morning: soak matzos
Wednesday evening: make filling and bake
The intestines used to be obtained from someone who made cooked pork meats (just like Grandma and Grandpa did). They had to be cleaned and have membranes removed (I did that once). Now Mom orders them at the butcher's in Ożarów. They arrive nice and clean, requiring only rinsing and removing the membranes.
I used the whole of the water from cooking the bacon. Some bits of matzo almost fell apart, but others where slightly firmer, so the filling had quite a coarse texture.
It is very important not to overload or puncture the intestines, otherwise they will burst. This time I filled them very loose, sometimes even too loose. Some burst anyway, but mainly due to sticking to the tray.
Dzionie in a baking tin (the filling baked in a baking tin, when you've run out of intestines) is useful for those, who aren't convinced to eating guts.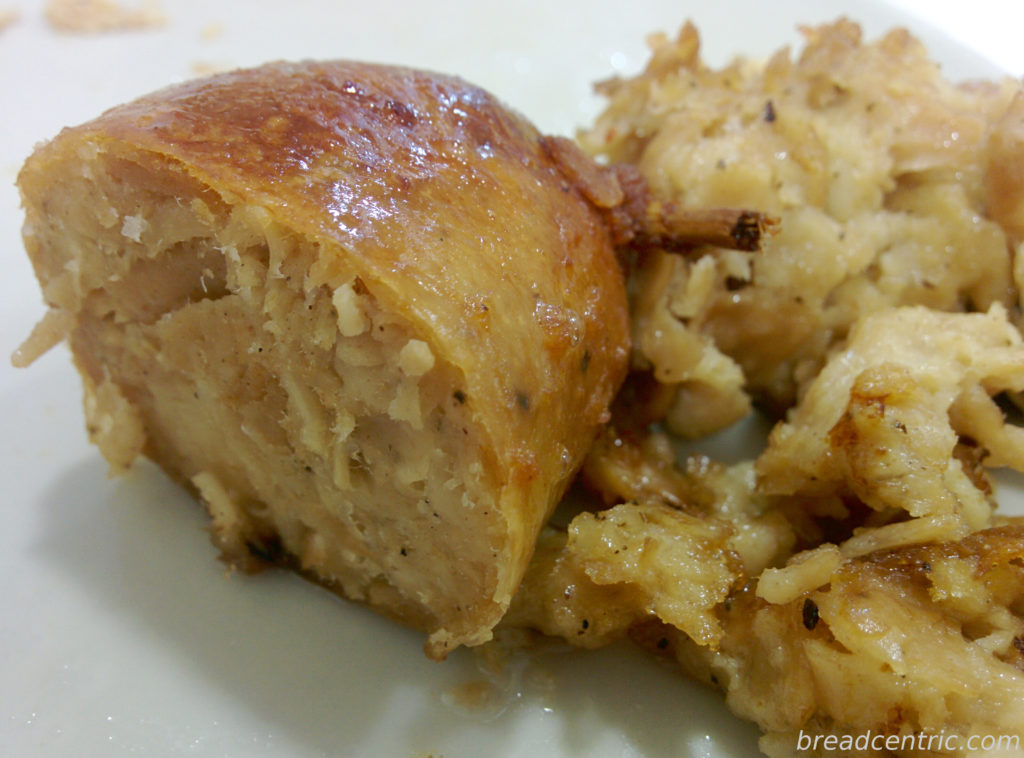 A word for the Christmas
I'm not counting on anyone to make dzionie just because they saw the recipe. It would be nice, but it's not why I published it. I'm a bit on the sentimental side and when I am missing something that used to be around, I experience it intensely, even more now that live in the UK. I miss celebrations with my family, some dishes, various customs.
Do you have a family recipe for a cheesecake? Some pickled food? Maybe a home made drink? If so, write down the recipe, learn to make it. It's the only way to not loose the family tradition.
I wonder if you have any treats like this.
Wersja polska
Wspominałem już przy okazji wpisu o macy, że na Wielkanoc i Boże Narodzenie przygotowujemy dzionie, tradycyjne danie świąteczne z Rakowa. Rok temu postanowiłem sam podjąć się tego. Rzuciłem moim Siostrom wyzwanie, aby również spróbowały. Nie dały rady, ale nie zniechęcam się, przyjdzie czas i na nie.
Tekst poniżej jest autorstwa mojej Mamy. Moje komentarze w nawiasach kwadratowych.
Dzionie rakowskie
Nigdy nie robiłam z przepisu, ale myślę że taki jest najbliższy mojej wersji, którą znam z podglądania prac Babci i Mamy od dziecka, a którą od wczesnej dorosłości wykonuję.
Składniki
Na macę:
1 kg mąki [użyłem pszennej chlebowej, choć Mama używa tortowej]
4 jajka
Odrobina soli
Woda [mi wyszło około 350 g]
Pozostałe produkty to:
1 kg podgardla wieprzowego lub 1 kg surowego boczku ze skórą, wcale nie chudego
4 jajka
Sól, pieprz do smaku
Grube jelita wieprzowe [najlepiej przechowywać zasypane solą w lodówce]
Patyczki do zapięcia kiszek
Wykonanie macy
Z podanych składników wyrobić ciasto jak na miękki makaron lub pierogi.
Podzielić na 5 – 6 części i rozwałkować placki o grubości jak na pierogi. Upiec w piekarniku, nastawionym na temperaturę 160 stopni (termoobieg) w około 20 – 30 minut.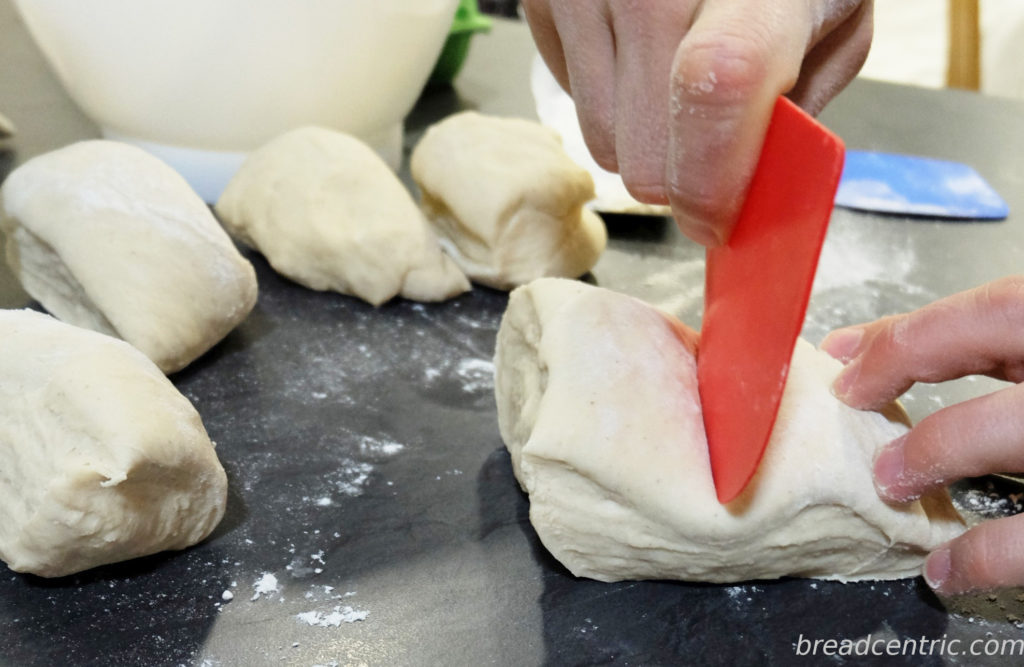 Oczywiście każdy placek piekę osobno[ja piekłem jednocześnie do trzech, żonglowałem nimi w międzyczasie między kratkami w piekarniku]. Zwykle robię to kilka dni przed Świętami, więc przechowuję np. w piekarniku.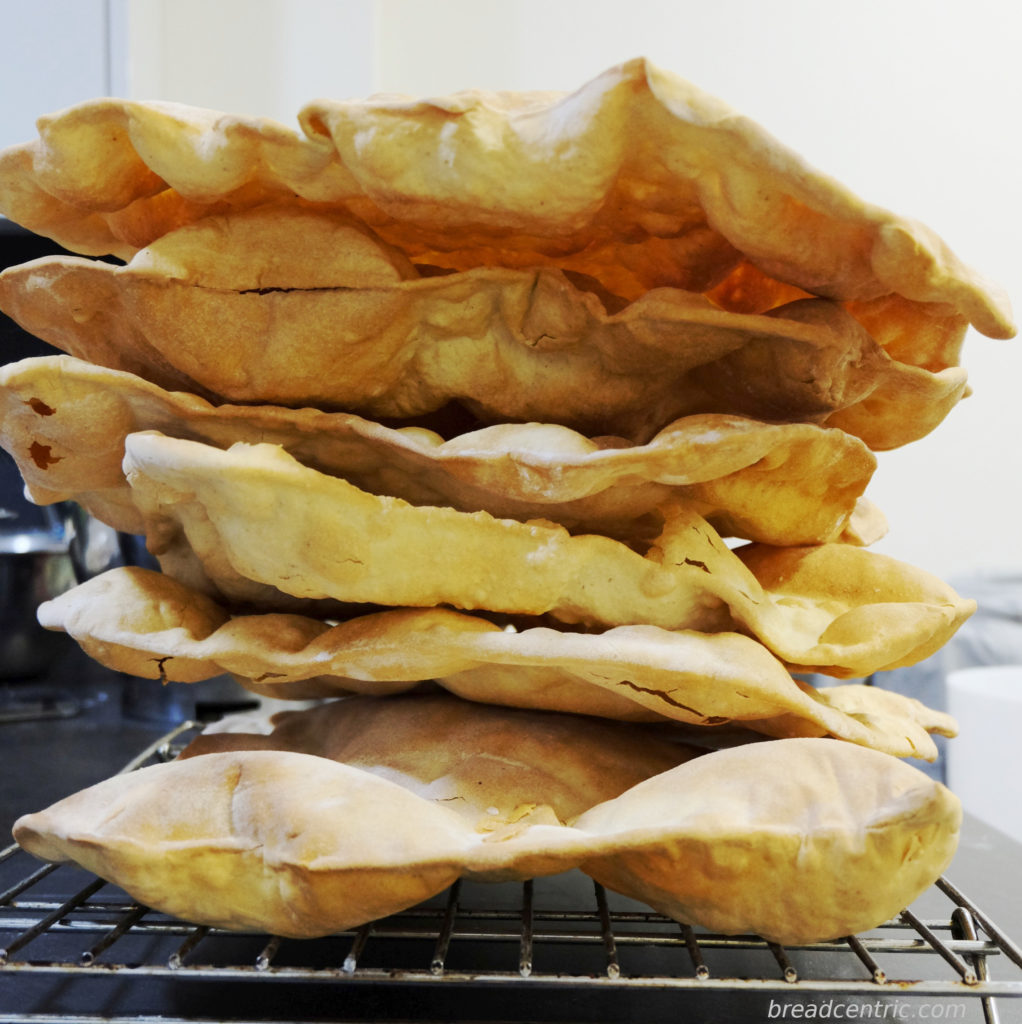 Wykonanie farszu
Podgardle lub boczek gotujemy. Można dodać do wody 1 listek laurowy i 1 -2 kulki ziela angielskiego. Wody powinno być sporo. Myślę, że do 1 kg mąki około 3 – 4 litrów.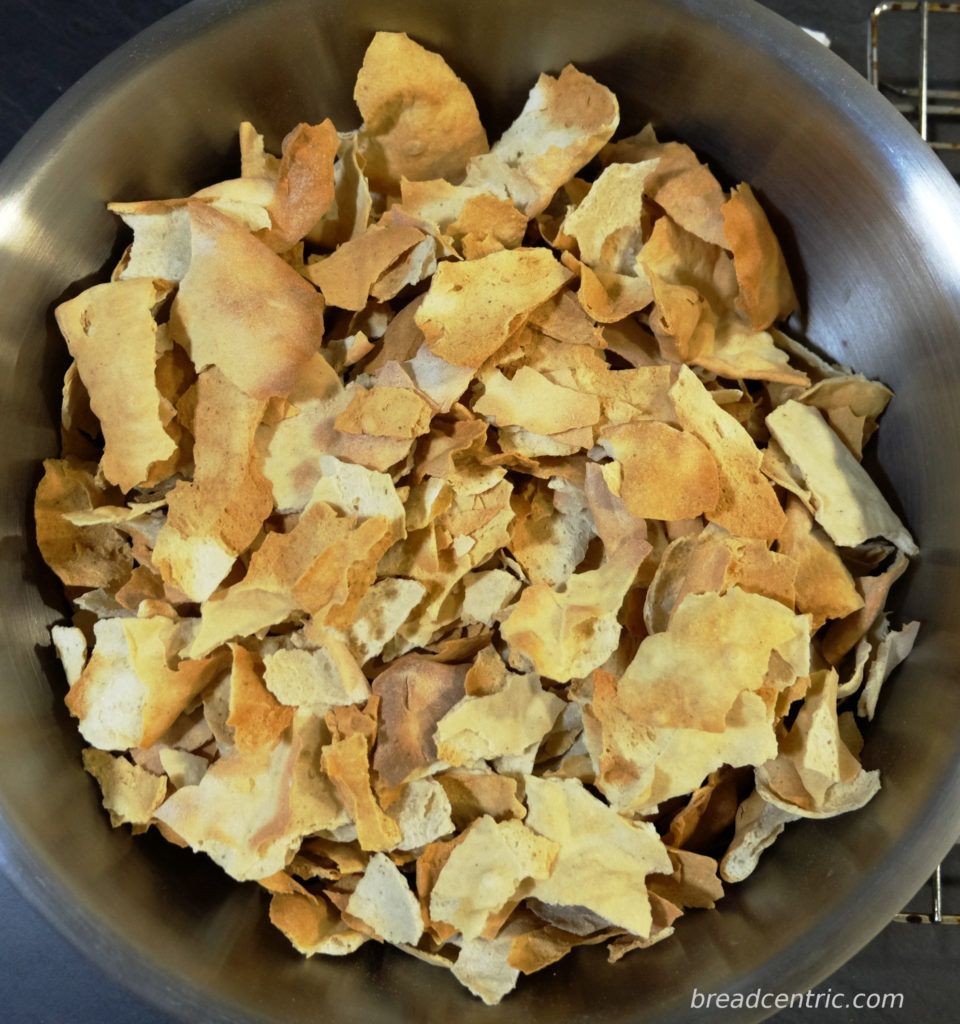 Ugotowane do miękkości podgardle wyjmujemy z wody, a wrzącym rosołem powstałym z gotowania zalewamy pogniecione na niezbyt drobne kawałki mace [gotowaliśmy we wtorek, w środę rano zagrzałem wywar i zalałem]. Na początek zalać tak, by płyn przykrył macę, a gdy wchłonie się cały płyn ale nadal będzie zbyt suche, dodać gorącego rosołu. Maca powinna być namaczana kilka godzin, im lepiej spęcznieje, tym mniejsze prawdopodobieństwo, że dzionie nie będzie pękać w pieczeniu (marzenie niepoprawnej optymistki 🙂 ). Dobrze rozmiękła maca, bez wyczucia twardego, suchego placka, i brak wody na spodzie naczynia to znak, że można kontynuować.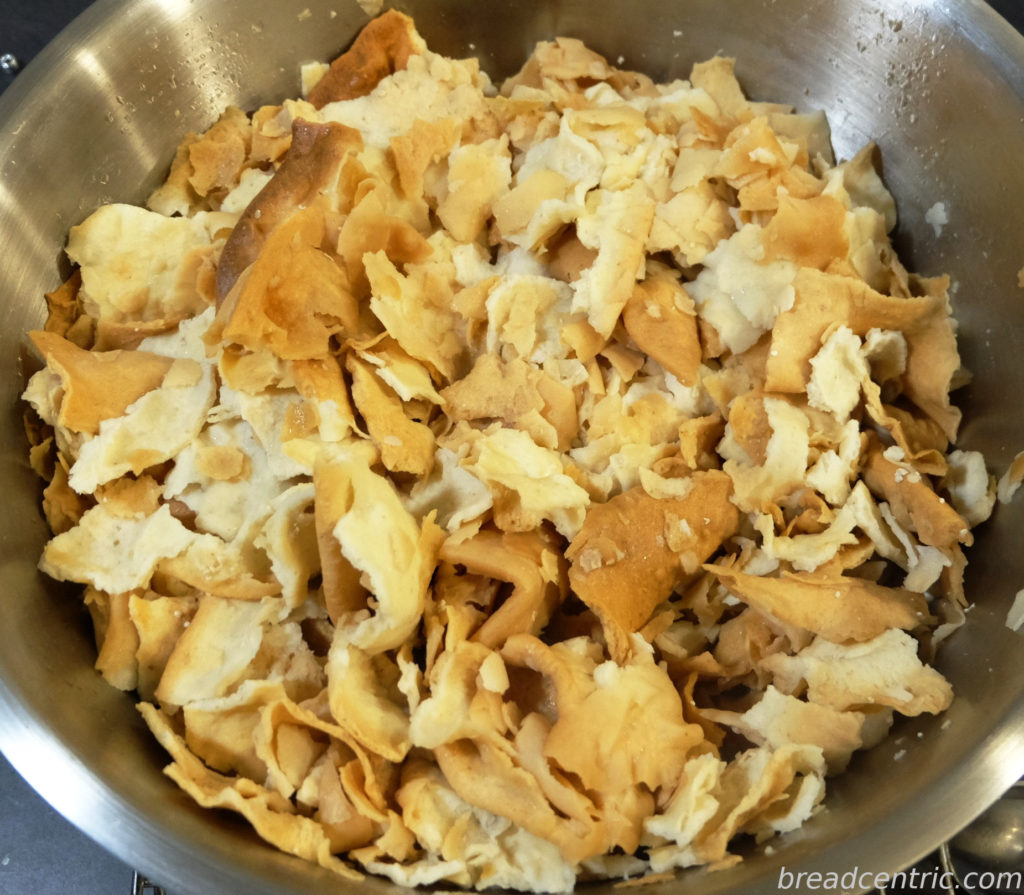 Posolone jelita należy wymoczyć w letniej wodzie, zmieniając ją kilka razy. Przepłukać też od środka, przelewając wodą [jeśli wewnątrz są błonki, należy je usunąć].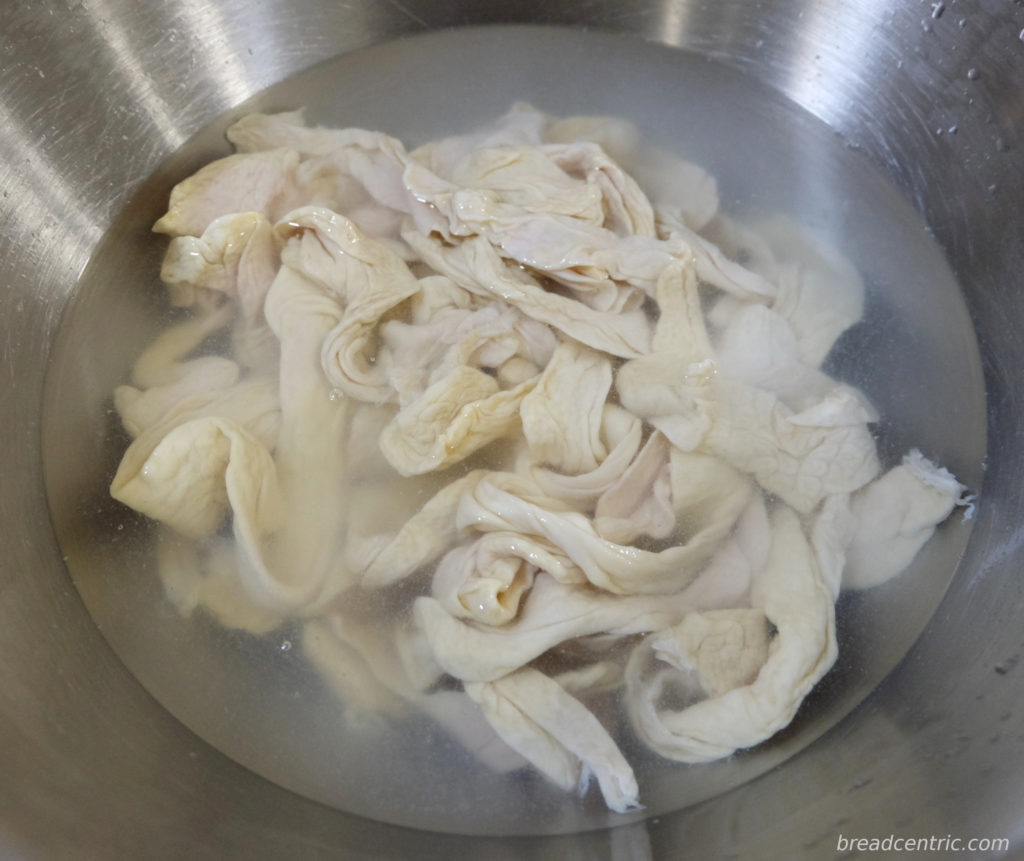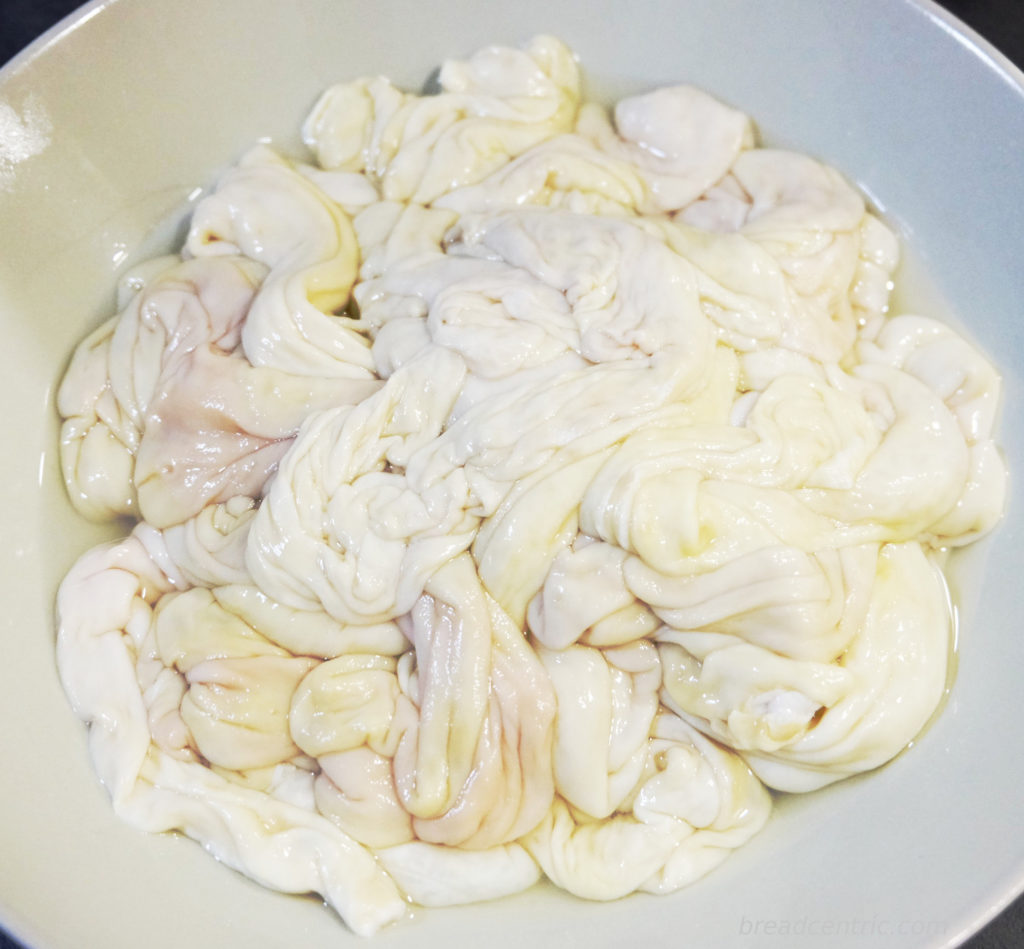 Wystudzone podgardle mielimy maszynką do mięsa. Dodajemy do macy zmieloną masę, jajka, sól, pieprz i dokładnie wyrabiamy. Teraz kawałki macy podzielą się na drobniejsze części, ale nie dbajmy o to, by farsz całkiem rozdrobnić na miazgę. Próbujemy z rodziną, czy dostatecznie doprawione do smaku.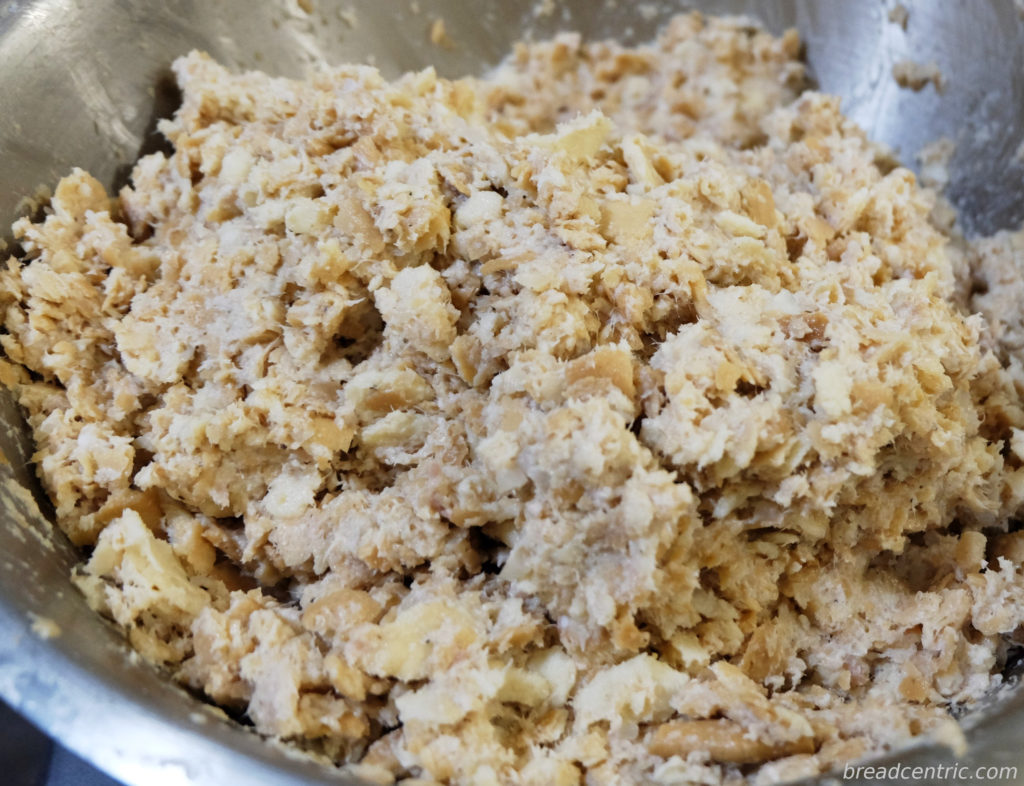 Wyrobiony i doprawiony farsz wkładamy do jelit. Bardziej luźno niż tępo. Zapinamy patyczkami. Układamy na brytfance wyłożonej papierem do pieczenia. Pieczemy w piekarniku, w temperaturze ok. 190 stopni. Zwykle trwa to ok. 30 – 40 minut. Ale trzeba pilnować i zwiększać lub zmniejszać temperaturę piekarnika w zależności od sytuacji. Zwykle w połowie pieczenia obrócić kiszki uważając aby się nie poparzyć [Mama niemal zawsze się poparzy, choćby troszkę]. Upieczone dzionie wykładamy do wystudzenia.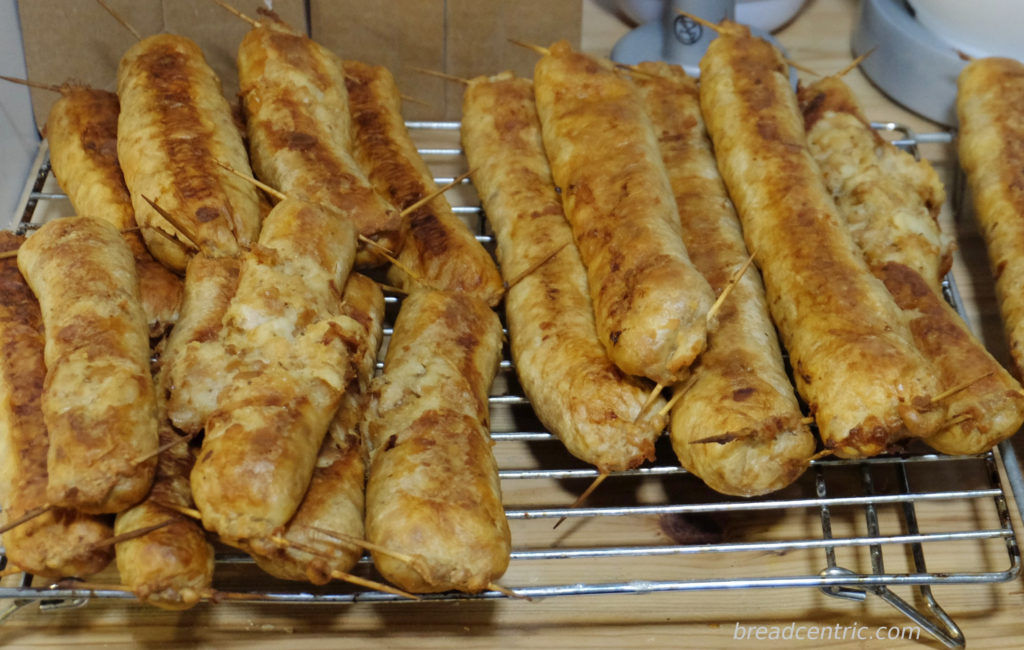 Dzionie ładnie wygląda, gdy jest równomiernie rumiane, ale nie ma co przesadzać, bo przecież przed podaniem odgrzewamy i podpiekamy na patelni. Ważne jest natomiast, by jelito nie było surowe i by nie popękało bardzo. Jeśli tak się stanie, to można masę z popękanej kiszki przełożyć do rondelka i też jest dobre tak odgrzane. Na patelni odgrzewać dzionie powoli. Postawione na zbyt dużym ogniu łatwo przypalić.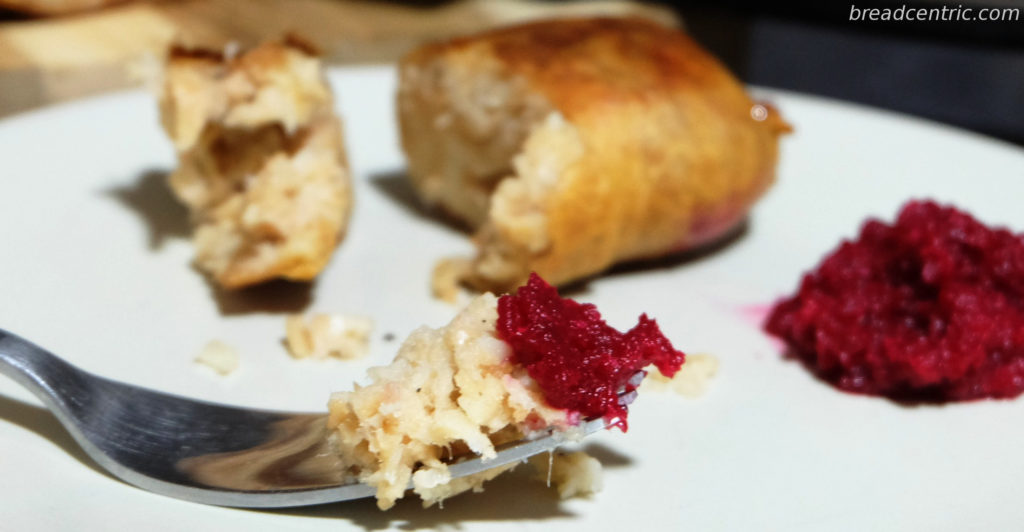 Mój komentarz
Mój harmonogram:
Poniedziałek: upiec mace
Wtorek: ugotować boczek/podgardle
Środa rano: zalać mace
Środa wieczorem: namoczyć i obrać kiszki, zrobić farsz i piec
Kiszki kiedyś zdobywało się od kogoś, kto prowadził ubój (dawniej nie było z tym problemu, bo Babcia i Dziadziuś robili wędliny z wieprzowiny). Kiszki trzeba było samemu płukać (sam się raz załapałem na tą przyjemność). Teraz Mama zamawia je w mięsnym w Ożarowie, pewnie w dalszym ciągu u Rogali. Przychodzą ładnie wyczyszczone. Wystarczy przejrzeć w czasie płukania i obrać błonki.
Mace zalałem całym wywarem. Cześć po kilku godzinach niemal się rozpłynęła, ale reszta była dość dobrze zachowana, więc farsz nie miał formy papki.
Bardzo ważne jest, żeby kiszek nie przeładować ani nie podziurawić, inaczej na pewno popękają. Ja tym razem nabiłem bardzo luźno, niektóre za bardzo i farsz nie wypełnił całej kiszki. Niektóre pękły, ale to przez to że przywarły i uszkodziły przy obracaniu.
Dzionie bez kiszek (farsz pieczony w foremce, do którego brakło kiszek) jest przydatne dla tych, którzy nie są przekonani do zajadania się jelitem.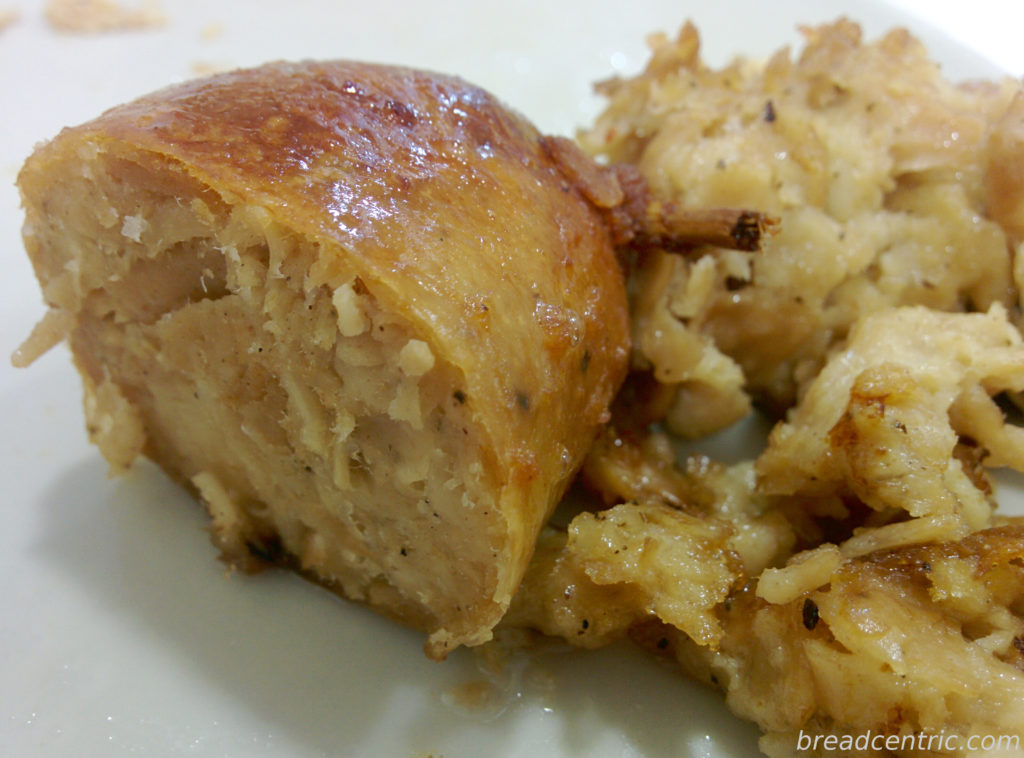 Słowo na Wigilię
Nie liczę na to, że ktokolwiek zrobi dzionie, tylko dlatego że zobaczył przepis. Znaczy się fajnie by było, ale nie o to mi tu chodzi. Jestem dość sentymentalny i gdy zaczyna mi brakować czegoś, co zawsze było, doskwiera mi to, szczególnie teraz, poza Polską. Brakuje mi Świąt z rodziną, pewnych potraw, różnych zwyczajów.
Czy masz rodzinny przepis na sernik? Jakieś wyjątkowe kiszonki? Sekretną recepturę nalewki? Zapisz przepis, naucz się robić. To jedyny sposób, żeby w pewnym momencie nie utracić rodzinnej tradycji.
Ciekaw jestem, czy ktoś jeszcze ma takie rodzinne rarytasy.