We have lied a little bit, I'm afraid.
Obawiam się, że trochę kłamaliśmy.

Po polsku poniżej
The truth is, we don't only make bread, and we will share more than just bread. Sorry!
Yesterday was a baking mania day. I had baking stuck in my head all day, and gave in, when spending time with our son.
After his nap we made some biscuits. They had to be fast and easy, and not too messy. And we've got just a thing for that: a cookie press, just like this one from Amazon. I don't know if it's good or bad, it's good enough for me. Gosia won it at a school fair some time ago (there's another one approaching next July). It's very basic but precisely what we needed.
Last couple of times it frustrated me more than gave fun, as I couldn't get the dough right. It should not be thick, and should be sticky enough to stick to the baking tray. This time we managed to make it work. It seems the key is very soft butter, icing sugar and enough eggs. We used a slightly modified recipe from the box. I scaled it up to a 250 g box of butter and reduced sugar content by about 15%.
Ingredients
This made around fifty larger biscuits.
250 g soft butter
360 g plain flour
110 g icing sugar
Two medium eggs
Two teaspoons of vanilla extract
I added about 5-10 g of cocoa powder, but it's not needed
Preparation
Set your oven to about 180 C with convection, or 200 C without it – start with it, you'll have the first batch ready before it heats up.
Mix everything thoroughly in a bowl. I used a mixer (I'm a lazy bastard, and I'm proud of it).
Put the the dough into the press.
Press biscuits onto a non-stick baking tray. I found that usually baking paper did not work well and the paper was stuck to the press instead of a biscuit left on the tray.
My press has two settings of a biscuit size. smaller makes more pieces to grab, bigger makes less work.
After you're done, check behind the piston. In my press the piston does not fill the whole space and the dough gets behind. It would be a shame to waste a chance for a couple more, wouldn't it?
After you fill the tray, pop it into the oven for about 7-8 minutes. Bigger ones need a bit more and maybe a slightly lower temperature (to avoid burnt surface and raw middle; you know your oven better than me). Smaller ones need about 5 minutes.
Let them cool down for a bit after taking out of the oven. Then just put on a plate and enjoy.
Yesterday when our son was asleep, I mixed the dough and prepared the press and trays. After he woke up, we turned the oven on and got going. An hour later all that was left to do was to tell Mom how the baking went, and it's not an easy task when you use single, mostly self-authored, words.
The biscuits are very simple and slightly crunchy, just right. They went as quickly as they came. Next in line are jammy dodgers, the uberbiscuits. Maybe next month.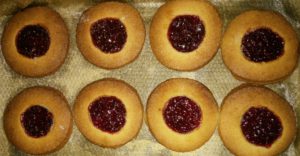 Prawda jest taka, że nie robimy jedynie chleba, i nie będziemy się dzielić jedynie chlebem. Przykro mi.
Wczoraj ogarnęła mnie mania pieczenia. Siedziało mi cały dzień w głowie i w końcu się poddałem, gdy spędzałem czas z synem.
Po jego drzemce upiekliśmy ciasteczka. Musiały być szybkie i łatwe, i nie mogły spowodować zbyt wielkiego bałaganu. Mamy narzędzie, które pasowało jak ulał do tego zadania: praska do ciastek, taka jak ta z Amazon. Nie wiem czy jest dobra czy zła, dla mnie jest wystarczająca. Gosia wygrała ją na festynie szkolnym jakiś czas temu (w lipcu będzie kolejny). Jest bardzo prosta i podstawowa, ale dokładnie tego nam potrzeba.
Ostatnich kilka razy robienie tych ciastek bardziej mnie frustrowało niż bawiło, ponieważ nie potrafiłem zrobić dobrego ciasta. Nie powinno być gęste i powinno być na tyle klejące, by przykleić się do tacy do pieczenia. Tym razem udało się. Wydaje się, że kluczowe jest bardzo miękkie masło, cukier puder i dostateczna ilość jajek. Użyliśmy nieco zmodyfikowanego przepisu z pudełka. Przeliczyłem go tylko, aby dopasować do kostki masła, i zredukowałem ilość cukru o ok. 15%. Czasami mam wrażenie, że ocena słodyczy w Wielkiej Brytanii jest oparta głównie na czasie potrzebnym do wpędzenia w cukrzycę przy regularnym jedzeniu. Tak, wiem że w wersji angielskiej tej opinii nie ma.
Składniki
Wystarczy na około 50 ciastek.
250 g miękkiego masła
360 g zwykłej mąki
110 g cukru pudru
Dwa średnie jajka
Dwie łyżeczki ekstraktu waniliowego
Dodałem jeszcze około 5-10 g kakaa w proszku, ale nie jest konieczne.
Przygotowanie
Nastaw piekarnik na około 180 C z termoobiegiem, lub 200 C bez – od tego zacznij, bo pierwsza porcja będzie gotowa do pieczenia przed nagrzaniem.
Połącz wszystkie składniki na jednolitą masę. Ja użyłem miksera (jestem leniwym draniem i jestem z tego dumny).
Wsadź ciasto do praski.
Wyciskaj ciastka na tackę do pieczenia. Nie korzystam z papieru, bo zazwyczaj przyklejał się on do ciastka, a ciastko nie odchodziło od praski.
Moja praska ma dwa ustawienia rozmiaru ciastka. Mniejszych wychodzi sporo więcej, większe zabierają mniej czasu.
Gdy ciasto się skończy, sprawdź tłok – u mnie nie wypełnia on całego przekroju i ciasto przechodzi do środka. Szkoda byłoby zmarnować kilka ciastek.
Gdy wypełnisz tackę, wstaw ją do piekarnika na około 7-8 minut. Większe potrzebują mniej więcej tyle i niewykluczone, że niższej temperatury (żeby nie były spalone z zewnątrz, a surowe w środku; Ty znasz swój piekarnik lepiej ode mnie). Mniejsze wymagają około 5 minut.
Po wyjęciu z piekarnika niech trochę ostygną. Potem przełóż je na talerzyk i smacznego.
Wczoraj, jeszcze w trakcie drzemki syna, wymieszałem ciasto i przygotowałem narzędzia. Gdy się obudził, włączyliśmy piekarnik i zabraliśmy się do roboty. Po godzinie do zrobienia zostało jedynie opowiedzenie Mamie, jak poszło pieczenie, a nie jest to łatwe, gdy używasz pojedynczych słów, głównie własnego autorstwa.
Ciasteczka są bardzo proste i lekko chrupiące, w sam raz. Wyszły równie szybko jak przyszły. Następne w kolejce są jammy dodgers, nadciastka. Może w następnym miesiącu.